Nikoi Island in Bintan Regency, Riau Islands Province
---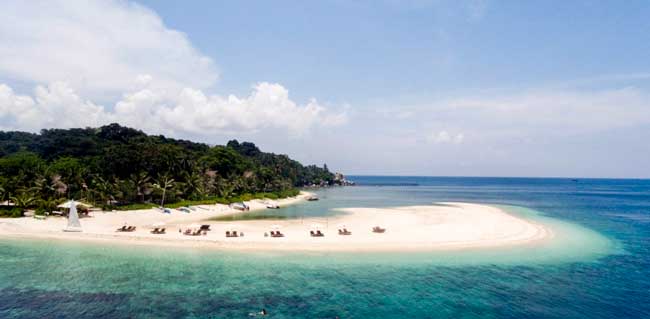 Riau Islands Province has been in the list of the best vacation destinations of Indonesia. As tourists may expect, they can enjoy island hopping and conduct various types of water sports there. One of the most recommended islands to visit, in this case, is Nikoi Island. In terms of region, it resides in Teluk Bakau Village of Gunung Kijang Sub-District. Also, the island belongs to Bintan Regency. One thing that makes it different than others is definitely the popularity. It is quite famous and is able to lure lots of outsiders, including foreigners!
The Nuance
All visitors would feel like spending a vacation on a private island in Nokoi. Even though the size is only about 15 hectares, the island comes with tons of stunning features. For instance, it is surrounded by white sandy shorelines. The texture is quite soft and the landscape is comfy enough for beach walking. Not to mention several huts and benches reside on the shorelines. Next, the island features a small pier, which is suitable for fishing and sightseeing. Some boats are also seen there. What is more? There is a single resort that accommodates all visitors. Both the architecture and facilities are quite satisfying, for sure!
Exploring Nikoi Island
Tourists won't regret visiting Nikoi Island despite the long trip. The location is at the east of Bintan Island and it is known for its beautiful shorelines. No wonder, visitors are likely to spend their time at beaches in order to enjoy activities like beach walking, sunbathing, relaxation, and much more! They would also gaze at the sea while enjoying the breezy warm wind. During holidays, lots of foreigners can be seen on the island, as well. These include tourists coming from Europe and the US!
The next recommended thing to do in Nikoi Island is to relax at the available resort. This facility indeed may satisfy families or those who come in a group! In fact, the resort comes with numerous amenities and facilities like swimming pool, tennis arena, and many more! As long as tourists carry enough money, they would be able to enjoy the best comfort at the resort. The location is quite near to the beach, too. Thus, the guests can access the shoreline easily!
What is more? Nikoi Island faces the South China Sea directly. No wonder, tourists are likely to enjoy water sports there. These include kayaking, diving, snorkeling, swimming, and windsurfing! Still, it is recommended to come with an instructor, especially for those who never do those activities before. As an alternative, they can simply enjoy fishing at the pier during the low tide.
Nearby Attractions

Mapur Island
Bintan Island
Bintan Maritim Museum
How to Get There
For those coming from Jakarta City, they can take an airplane at Soekarno – Hatta International Airport and head to Hang Nadim Airport right away at Batam City. This flight usually takes around 1 hour and 35 minutes! Next, they should take a local boat service and head to Bintan Island first. This voyage may take about 2 hours. Next, from Bintan, it requires another boat and the destination is none other than Nikoi Island. This time, the voyage may take at least about 1 hour.
Where to Stay


Latest News
In the are of Tanjung Uma, many houses were built on stilts with wooden poles. Because the position of this village is on two headlands, namely Tanjung Lepu and Tanjung Kubur, the local people named the village as Tanjung Uma. Another opinion states that the word uma comes from the English phrase from the word home. What was spoken by the people first was (h)ome, then it became ume and then changed to Tanjung Ume or Tanjung Uma. For seafood lovers, the variety of fish sold at Tanjung Uma is…
---
Riau Islands Tourism Your visit to Lingga Regency seem no complete without traveling to island of Mepar. Located precisely in front of the Tanjung Buton Port, the island is not only beautiful but also rich in history. Its friendly peoples and strongly maintained its tradition is the additional bonus that you would find if you visit there. Do not forget, taste their typical culinary and also carry a variety of native crafts as a souvenir. Administratively, Mepar island is part of the Lingga District, which has approximately, 5000 m2 wide,…
---
Tanjung Uban Tanjung Uban is a town districts in Bintan, Riau Islands Province. The city is also included in Bintan Island which has a sea port for expedition ships and pioneer passenger ships belonging to PT. Pelni. Kota Tanjung Uban is also the access to Batam Island and Singapore. In Tanjung Uban lies an BIIE industrial area in Lobam and BRC tourist areas in Lagoi. Before 1963, the community of Tanjung Uban use Singapore dollars in transactions, as well as residents of other Riau Islands. Rupiah Riau Islands (KR) becomes…
---
Lagoi beach is located in North Bintan sub-district, Bintan, Riau Islands province. This beach is majestically beautiful and have the same value as other beaches in Bali or Lombok. By the beauty inside the beach, there are foreigners coming along to enjoy the beach, especially for those who come from Singapore. It only takes 45 Km between Lagoi beach and Singapore, and that makes the Singaporean come to the beach often. Lagoi beach offers the magnificent nature beauty. Coconut trees, white sandy beach, the rolling waves and every detail nuance…
---