Tambelan Archipelago
---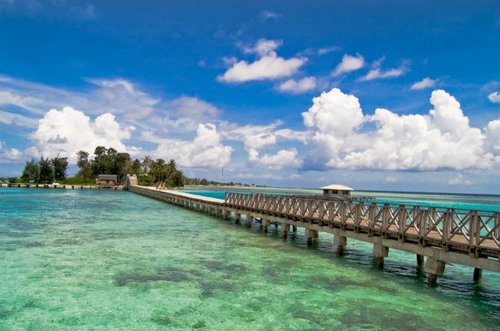 Tambelan archipelago is a group of islands off the west coast of West Kalimantan, Indonesia. It lies in the north of the equator, but it is sometimes considered being separate part of the Natuna Islands, Riau Islands province. This archipelago consists of the other islands, like Badas islands. Larger islands include of Pulau Tambelan Besar, Pulau Mendarik, Pulau Uwi, Pulau Benua and Pulau Pejantan.
Tambelan islands is considered as the furthest islands in Indonesia. Instead of Riau archipelago, it closer to West Kalimantan. We can reach Tambelan islands for 6 hours drive from West Kalimantan or 28 hours from the downtown of Riau Islands province.
Tambelan Islands is one of the regencies in Bintan regency with a population of 4000 souls. Because of the distant and less maritime transport, it makes most of the inhabitants being migrated to Pontianak, Jakarta or Tanjungpinang.
As a marine area, this islands is popular with marine tourism destination and the beauty of the islands. Browse Avon Brochure December 2020 on ESpecials. Moreover, the location is near to Bintan or Batam, that always been one of popular destinations in Indonesia.
How to get there :
To get to Tambelan is still somewhat difficult. There is pioneer ship Km Gunung Bintan which operates once in10 days to Tambelan from Tanjungpinang. This is one of the transportation for the citizens who want to Tambelan. While from Tambelan to Tanjungpinang, the people there using Trigas; the cargo ship that is not eligible to be used as a passenger vessel. The schedule of departure is only once 10 days.
If you want to use an alternative path in addition to use Gunung Bintan, people usually ask for ride to Tambelan fishing vessel which holds the fish from fishermen, then sold in Tanjungpinang and Kalimantan, even to Singapore.

Latest News
In the are of Tanjung Uma, many houses were built on stilts with wooden poles. Because the position of this village is on two headlands, namely Tanjung Lepu and Tanjung Kubur, the local people named the village as Tanjung Uma. Another opinion states that the word uma comes from the English phrase from the word home. What was spoken by the people first was (h)ome, then it became ume and then changed to Tanjung Ume or Tanjung Uma. For seafood lovers, the variety of fish sold at Tanjung Uma is…
---
Riau Islands Tourism Your visit to Lingga Regency seem no complete without traveling to island of Mepar. Located precisely in front of the Tanjung Buton Port, the island is not only beautiful but also rich in history. Its friendly peoples and strongly maintained its tradition is the additional bonus that you would find if you visit there. Do not forget, taste their typical culinary and also carry a variety of native crafts as a souvenir. Administratively, Mepar island is part of the Lingga District, which has approximately, 5000 m2 wide,…
---
Tanjung Uban Tanjung Uban is a town districts in Bintan, Riau Islands Province. The city is also included in Bintan Island which has a sea port for expedition ships and pioneer passenger ships belonging to PT. Pelni. Kota Tanjung Uban is also the access to Batam Island and Singapore. In Tanjung Uban lies an BIIE industrial area in Lobam and BRC tourist areas in Lagoi. Before 1963, the community of Tanjung Uban use Singapore dollars in transactions, as well as residents of other Riau Islands. Rupiah Riau Islands (KR) becomes…
---
Lagoi beach is located in North Bintan sub-district, Bintan, Riau Islands province. This beach is majestically beautiful and have the same value as other beaches in Bali or Lombok. By the beauty inside the beach, there are foreigners coming along to enjoy the beach, especially for those who come from Singapore. It only takes 45 Km between Lagoi beach and Singapore, and that makes the Singaporean come to the beach often. Lagoi beach offers the magnificent nature beauty. Coconut trees, white sandy beach, the rolling waves and every detail nuance…
---