Kampung Vietnam
---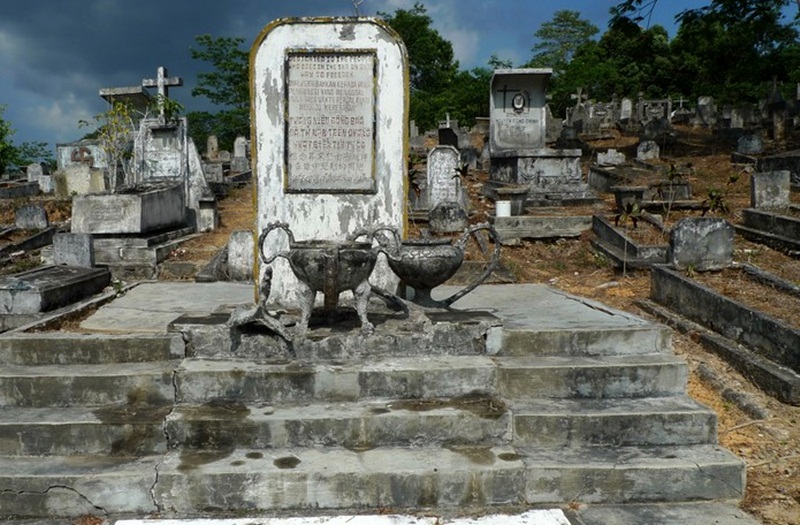 Kampung Vietnam is located on Galang Island, and now becomes an uninhabited region that in ancient times this was the residence of Vietnamese refugees. Galang Island is located about 50 km from the center of Batam. To reach the island, the visitors have to pass through the bridge Barelang and several other islands first. From Hang Nadim Airport is located on Jalan Hang Nadim, Batam Batu Besar, the visitors can use personal vehicle.
The Vietnamese refugees, often referred as boat people fled to the Galang island due to internal conflict in Vietnam. The Indonesian government allowing them to stay in Kampung Vietnam and gradually repatriate them to their hometown so that now there is no more refugees in the region. Although it is empty, Kampung Vietnam now becomes one of the tourism destinations in Batam, that still has the same condition, complete with a variety of legacy.
In the past, the situation of refugees caught the attention of the UN High Commissioner for Refugees (UNHCR) and the Government of Indonesia. Galang island, which precisely located in the Village Sijantung, Riau Islands, finally agreed to be used as temporary shelters for refugees. UNHCR and the Government of Indonesia to build facilities, such as camps, churches, hospitals, and schools, which were used to facilitate the approximately 250,000 refugees.
There was a UNHCR administration office established in Galang to run the Galang Refugee Camp during the 1979-1996 period. Many Vietnamese Boat People and asylum seekers were temporarily accommodated in the Galang camp during the determination of their refugee status and their subsequent resettlement in the USA, Australia and some European Countries. Many Vietnamese from their new resettled countries have come back to visit Galang.
For Vietnamese former refugees, especially those who left family members in the disturbingly large cemetery there, or those who lost them at sea on the way to Indonesia, Pulau Galang has become a kind of pilgrimage site. There are number of visitors that mostly coming from Singapore, also passes through the island, which receives about 1200 guests per month. The local business association, including some former camp officials, were quick to grasp the opportunity to encourage refugee visitors and other tourists to come to the island.
Many relics of Vietnamese are still can be seen here. One of those relics are the boat that being used by the Vietnamese refugees to left the country and to avoid a civil war, to go to this island.
How to get there :
Kampung Vietnam on Galang Island is located approximately 50 km from the center of Batam. To reach this place, the visitors can drive and crossed Barelang bridge that connecting Batam Island, Tonton, Nipah Island, rempang, Galang and Galang Baru Island. Browse Pick n Pay Specials on ESpecials. The visitors can also use public transportation of Metro Trans with route service Jodoh - Galang with fares starting from Rp 5,000.
Working hours: Monday - Friday Pk. 07:30 to 16:30, Saturdays, Sundays & Holidays Pk. 07:30 to 17:30
Price duties: Rp 25,000 per car

Latest News
In the are of Tanjung Uma, many houses were built on stilts with wooden poles. Because the position of this village is on two headlands, namely Tanjung Lepu and Tanjung Kubur, the local people named the village as Tanjung Uma. Another opinion states that the word uma comes from the English phrase from the word home. What was spoken by the people first was (h)ome, then it became ume and then changed to Tanjung Ume or Tanjung Uma. For seafood lovers, the variety of fish sold at Tanjung Uma is…
---
Riau Islands Tourism Your visit to Lingga Regency seem no complete without traveling to island of Mepar. Located precisely in front of the Tanjung Buton Port, the island is not only beautiful but also rich in history. Its friendly peoples and strongly maintained its tradition is the additional bonus that you would find if you visit there. Do not forget, taste their typical culinary and also carry a variety of native crafts as a souvenir. Administratively, Mepar island is part of the Lingga District, which has approximately, 5000 m2 wide,…
---
Tanjung Uban Tanjung Uban is a town districts in Bintan, Riau Islands Province. The city is also included in Bintan Island which has a sea port for expedition ships and pioneer passenger ships belonging to PT. Pelni. Kota Tanjung Uban is also the access to Batam Island and Singapore. In Tanjung Uban lies an BIIE industrial area in Lobam and BRC tourist areas in Lagoi. Before 1963, the community of Tanjung Uban use Singapore dollars in transactions, as well as residents of other Riau Islands. Rupiah Riau Islands (KR) becomes…
---
Lagoi beach is located in North Bintan sub-district, Bintan, Riau Islands province. This beach is majestically beautiful and have the same value as other beaches in Bali or Lombok. By the beauty inside the beach, there are foreigners coming along to enjoy the beach, especially for those who come from Singapore. It only takes 45 Km between Lagoi beach and Singapore, and that makes the Singaporean come to the beach often. Lagoi beach offers the magnificent nature beauty. Coconut trees, white sandy beach, the rolling waves and every detail nuance…
---