Karimun Island
---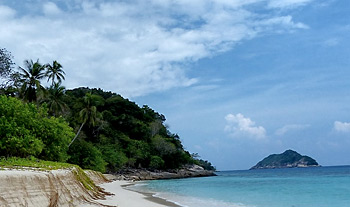 Karimun islands or knows as Great Karimun or Karimun Besar, another splendid island that Indonesia has, settled in between west Singapore and Batam. Administratively located in Karimun regency, Riau Islands, this beautiful islands lies about 37 Km southwest of Singapore and 54 Km west of Batam.
Together with Batam and Bintan, Karimun forms part of the Batam-Bintan-Karimun Free Trade Zone, which is being developed into an industrial and tourism region. Tanjung Balai is the capital city of Karimun Islands, a busy medium town largely built on stilts, with a significant Chinese Peranakan population.
The name of Tanjung Balai Karimun should not be confused with its namesake Tanjung Balai in Asahan on the main island of Sumatra. Similarly, Karimun in the Riau Islands province should also not be mistaken with the Karimunjawa Islands, that located at the north of Semarang, capital of Central Java.
The island has strategic geographical importance, as it is near to the Straits of Malacca, an international shipping route. As the island is strategically located at the border of Singapore and Johor (in Malaysia), Karimun is also included the SIJORI Growth Triangle partnership. SIJORI (Singapore-Johor-Riau Islands) Growth Triangle is a strategic partnership among Singapore, Johor and Riau Islands that combine the individual and collective strength to improve the subregion attractiveness to investors from both the region and international.
The tourism potential from this Islands is big, regarding there are numbers of tourism sites that worth visited. Karimun Islands offers long stretches of white sandy beaches, snorkeling opportunities, and of course succulent seafood dishes of fish, crabs, prawns and oysters and all freshly caught from the sea. The nearby Terkulai and Soreh are popular holiday islands, while Palawan Beach and Pongkar Beach offers white sandy beaches ideal for watersports and relaxation under the palm trees. Browse Pick n Pay Specials on ESpecials. The island of Telunas in Karimun has also been developed into a holiday resort, a favorite with Singapore expatriates and students. Moreover, here are found a number of Chinese temples, oldest of which is the Vihara Cetiya Vidya Sagara at Jalan Jenderal A. Yani at Meral, built in 1926. Others along the same street are the Vihara Bodhi Maitreya.an the Vihara Sasana Diepa. Further away at Jalan Athena is the Klenteng Tua Pek Kong.
To meet the inhabitants aroung the islands and enjoy the rural life on this tropical island, we need to get away from Tanjung Balai and go to some local village or "kampung" at Meral or Pasir Panjang.
How to get there :
Crossings to / from Karimun:

SINGAPORE:
There are two ferry crossings which serve route from Singapore to Karimun, the Penguin and Indofalcon. You can start the journey from the Harbourfront Center Ferry Terminal to the Port of Tanjung Balai. Long journey takes 90 minutes.

In Monday - Friday, there are four crossings schedule, namely:

From the Harbourfront Center Ferry Terminal (07:50 - 11:20 to 14:20 - and 18:25).
From the Port of Tanjung Balai (07:15 to 10:15 - 14:00 to 5:00 p.m. GMT).
Meanwhile, on Saturday and Sunday, the schedule crossings increased to six times, namely:

From the Harbourfront Center Ferry Terminal (7:50 to 09:50 - 12:25 to 14:20 - 16.25 - and 18.25).
From the Port of Tanjung Balai (07:15 to 09:45 - 11:30 AM - 13:15 to 15:30 - and 17:00 pm).
MALAYSIA:
The journey from Malaysia to the Karimun can be start from Kukup (Johor Southwestern) using the Fast Ferry Ventures (08:30 to 10:00 - and 15:30) and MV Ocean Indoma (11:45 and 17:00).
BATAM:
From Batam you can use Miko Natalia Ferry Port Sekupang.
TANJUNG PINANG :
From Tanjung Pinang you can use the Dumai Express Ferry in Port of Sri Bintan Pura. Karimun now is also has number of good hotels. Having your sweet escape to this place is the experience you will never missed.

Latest News
In the are of Tanjung Uma, many houses were built on stilts with wooden poles. Because the position of this village is on two headlands, namely Tanjung Lepu and Tanjung Kubur, the local people named the village as Tanjung Uma. Another opinion states that the word uma comes from the English phrase from the word home. What was spoken by the people first was (h)ome, then it became ume and then changed to Tanjung Ume or Tanjung Uma. For seafood lovers, the variety of fish sold at Tanjung Uma is…
---
Riau Islands Tourism Your visit to Lingga Regency seem no complete without traveling to island of Mepar. Located precisely in front of the Tanjung Buton Port, the island is not only beautiful but also rich in history. Its friendly peoples and strongly maintained its tradition is the additional bonus that you would find if you visit there. Do not forget, taste their typical culinary and also carry a variety of native crafts as a souvenir. Administratively, Mepar island is part of the Lingga District, which has approximately, 5000 m2 wide,…
---
Tanjung Uban Tanjung Uban is a town districts in Bintan, Riau Islands Province. The city is also included in Bintan Island which has a sea port for expedition ships and pioneer passenger ships belonging to PT. Pelni. Kota Tanjung Uban is also the access to Batam Island and Singapore. In Tanjung Uban lies an BIIE industrial area in Lobam and BRC tourist areas in Lagoi. Before 1963, the community of Tanjung Uban use Singapore dollars in transactions, as well as residents of other Riau Islands. Rupiah Riau Islands (KR) becomes…
---
Lagoi beach is located in North Bintan sub-district, Bintan, Riau Islands province. This beach is majestically beautiful and have the same value as other beaches in Bali or Lombok. By the beauty inside the beach, there are foreigners coming along to enjoy the beach, especially for those who come from Singapore. It only takes 45 Km between Lagoi beach and Singapore, and that makes the Singaporean come to the beach often. Lagoi beach offers the magnificent nature beauty. Coconut trees, white sandy beach, the rolling waves and every detail nuance…
---