Lingga Islands
---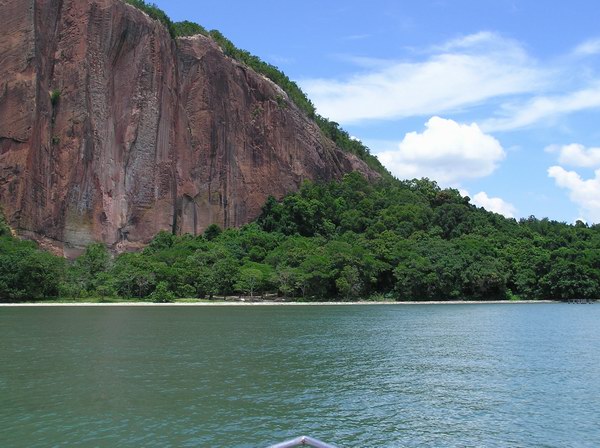 Lingga Islands or Lingga Archipelago are a group of islands in Indonesia, that located in the south of Singapore, along both sides of the equator, off the eastern coast of Riau Islands province, Sumatra. They are south of the populated Riau Archipelago, which known for the industrial island of Batam and the tourist-frequented island of Bintan, although the Lingga Islands themselves are rarely visited due to the infrequent local transportation.
The equator goes through the northern tip of Lingga, the name of the main island in the archipelago. The capital lies at Daik, with the inhabitants that mainly from Malay, Bugis and Chinese (predominantly Hakka, Teochew and Hokkien) tribes. Lingga derives its name from the profile of Mount Daik; Lingam is the Sanskrit word for phallus. This mountain has three sharp teeth as peak, one of them seems to have broken off at its base, and it was immortalized by Malay poets as the symbol of durability.
There are a number of fine beaches with some coral around the Archipelago but there is very little tourism regarding the poor transportation links with the outside world. To reach this islands, there are ferry services to the islands from the outside the archipelago, which come from the provincial capital to the north, Tanjung Pinang on Bintan, including from Singapore. Singkep has two ports, Dabo near Dabosingkep and Jago near Sungaibuluh. However, a high-speed ferry continues to connect Tanjung Pinang to Singkep, from where local boats may be chartered to Lingga. From Lingga, Daik is the major town and port. It can be reached in a day from Singapore transferring at Tanjung Pinang.
How to get there :
Crossings to / from Lingga:
TANJUNG PINANG :
The journey to Lingga you can travel using the sea lanes, using MV Batavia and MV Superjet to be anchored in the Port Jagoh (Lingga) and it takes about 3 hours. In addition, you also can use a MV Marine Hawk with the destination Port Daik for about 3 hours drive.

Latest News
In the are of Tanjung Uma, many houses were built on stilts with wooden poles. Because the position of this village is on two headlands, namely Tanjung Lepu and Tanjung Kubur, the local people named the village as Tanjung Uma. Another opinion states that the word uma comes from the English phrase from the word home. What was spoken by the people first was (h)ome, then it became ume and then changed to Tanjung Ume or Tanjung Uma. For seafood lovers, the variety of fish sold at Tanjung Uma is…
---
Riau Islands Tourism Your visit to Lingga Regency seem no complete without traveling to island of Mepar. Located precisely in front of the Tanjung Buton Port, the island is not only beautiful but also rich in history. Its friendly peoples and strongly maintained its tradition is the additional bonus that you would find if you visit there. Do not forget, taste their typical culinary and also carry a variety of native crafts as a souvenir. Administratively, Mepar island is part of the Lingga District, which has approximately, 5000 m2 wide,…
---
Tanjung Uban Tanjung Uban is a town districts in Bintan, Riau Islands Province. The city is also included in Bintan Island which has a sea port for expedition ships and pioneer passenger ships belonging to PT. Pelni. Kota Tanjung Uban is also the access to Batam Island and Singapore. In Tanjung Uban lies an BIIE industrial area in Lobam and BRC tourist areas in Lagoi. Before 1963, the community of Tanjung Uban use Singapore dollars in transactions, as well as residents of other Riau Islands. Rupiah Riau Islands (KR) becomes…
---
Lagoi beach is located in North Bintan sub-district, Bintan, Riau Islands province. This beach is majestically beautiful and have the same value as other beaches in Bali or Lombok. By the beauty inside the beach, there are foreigners coming along to enjoy the beach, especially for those who come from Singapore. It only takes 45 Km between Lagoi beach and Singapore, and that makes the Singaporean come to the beach often. Lagoi beach offers the magnificent nature beauty. Coconut trees, white sandy beach, the rolling waves and every detail nuance…
---