Padang Melang Beach
---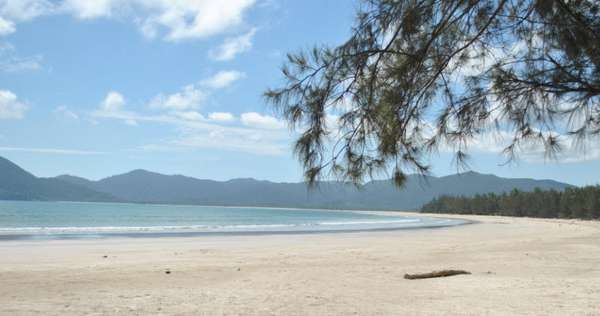 Padang Melang is the beach which has the longest coastline in the province of Riau Islands. The stretch of sand in this beach resort covers up to two regions, Letung Sub-district and Bukit Padi Village, District Jemaja, Anambas. It has eight kilo meters for total stretches. Along this coastline, across the surface is dusted with finely grained white sand.
Another charm from this beach is the lanscape with curved like a horseshoe, decorated with thousands of coconut trees lined up neatly and towering pine trees in here and there. Among the pine and palm trees, standing gazebo for visitors to rest, relax and enjoy the ocean views that lie ahead.
There are no inns or cottages to spend the night here, if you want to stay, you may stay overnight in one of the houses that surround the beach.
To get to the beach is can be reached by motorcycle or car for about half an hour from the city Letung through Letung main street - Kuala Maras. Or it could be reach by speedboat or pompong by sea for about two hours. But reaching through the sea is not recommended, because there is no dock at this beach so it is difficult for landing.

Latest News
In the are of Tanjung Uma, many houses were built on stilts with wooden poles. Because the position of this village is on two headlands, namely Tanjung Lepu and Tanjung Kubur, the local people named the village as Tanjung Uma. Another opinion states that the word uma comes from the English phrase from the word home. What was spoken by the people first was (h)ome, then it became ume and then changed to Tanjung Ume or Tanjung Uma. For seafood lovers, the variety of fish sold at Tanjung Uma is…
---
Riau Islands Tourism Your visit to Lingga Regency seem no complete without traveling to island of Mepar. Located precisely in front of the Tanjung Buton Port, the island is not only beautiful but also rich in history. Its friendly peoples and strongly maintained its tradition is the additional bonus that you would find if you visit there. Do not forget, taste their typical culinary and also carry a variety of native crafts as a souvenir. Administratively, Mepar island is part of the Lingga District, which has approximately, 5000 m2 wide,…
---
Tanjung Uban Tanjung Uban is a town districts in Bintan, Riau Islands Province. The city is also included in Bintan Island which has a sea port for expedition ships and pioneer passenger ships belonging to PT. Pelni. Kota Tanjung Uban is also the access to Batam Island and Singapore. In Tanjung Uban lies an BIIE industrial area in Lobam and BRC tourist areas in Lagoi. Before 1963, the community of Tanjung Uban use Singapore dollars in transactions, as well as residents of other Riau Islands. Rupiah Riau Islands (KR) becomes…
---
Lagoi beach is located in North Bintan sub-district, Bintan, Riau Islands province. This beach is majestically beautiful and have the same value as other beaches in Bali or Lombok. By the beauty inside the beach, there are foreigners coming along to enjoy the beach, especially for those who come from Singapore. It only takes 45 Km between Lagoi beach and Singapore, and that makes the Singaporean come to the beach often. Lagoi beach offers the magnificent nature beauty. Coconut trees, white sandy beach, the rolling waves and every detail nuance…
---