Air Dagang Beach in Karimun Regency, Riau Islands Province
---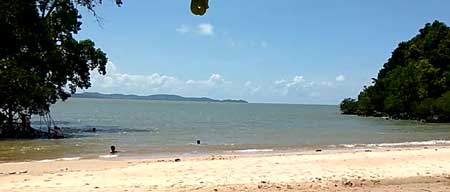 Riau Islands Province consists of many beautiful regions including Karimun Regency. Each of the regions even has mesmerizing beaches and other natural attractions. Well, for those visiting Karimun Regency, they should drop by at Air Dagang Beach, in this case. This new vacation spot starts getting better popularity these days. One of the reasons is the location, which resides in the famous Karimun Regency. Both the nuance and environment are also impressive, so the beach is suitable for both relaxation and spending family recreation. Some tourists also take advantage of the serenity to get rid of stresses, actually.
The Nuance
The first impression once arriving at Air Dagang Beach is indeed the serenity. Despite its popularity, the beach has a peaceful ambiance, which is suitable for relaxation and finding peace! Next, it features a curvy white sandy shoreline. The landscape is considered soft and sloping, but some chunks of rocks and coral reefs are seen on some parts of the beach. The next feature to notice is the presence of coconut trees and shady plants that reside in the back of the shoreline. These trees indeed create a comfy and soothing atmosphere to the site.
Exploring Air Dagang Beach
Even though the local government hasn't given a significant improvement to Air Dagang Beach, the site won't bore visitors. It is because tourists would take advantage of the serenity to enjoy relaxation despite the absence of facilities. Some others would explore the shoreline and enjoy beach walking instead. They want to feel the soft-textured sandy landscape and see all available interesting objects during exploration. As mentioned before, the beach has many big rocks and coral reefs! Not to mention some mangrove trees beautify that area.
Aside from relaxation and exploration, visitors usually enjoy photography when spending some time at Air Dagang Beach. They take photos of the sea, coral reefs, and other mesmerizing objects there. Sometimes, in fact, several local fishermen and their boats are seen on the shore. They indeed become a nice object for photography. As an alternative, tourists should take selfies in front of the shore or sun views (sunrise or sunset)! This must be done at the right time, though.
What is next? Those who visit Air Dagang Beach should not forget to approach local fishermen either for gathering information regarding fishing or buy some fresh fishes. It is even possible to ride a boat with the concern of the owner. Later, in the afternoon, they can conduct fishing with nearby locals and catch some fishes directly on the shore! What a great way to spend a vacation!
Nearby Attractions

Durian Island
Tjombol Island
Bulan Island
How to Get There
For those coming from Jakarta City, they can directly head to Batam City by airplane. For the information, a flight from Soekarno – Hatta International Airport to Hang Nadim Airport would take around 1 hour and 35 minutes. Next, from Batam, they can use a boat at a local port in order to reach Sugibawah Island where the beach is located. They would pass through Bulan and Tjombol Island, though. No wonder, this voyage may take some time.
Where to Stay

Telunas Private Island Resort

Latest News
In the are of Tanjung Uma, many houses were built on stilts with wooden poles. Because the position of this village is on two headlands, namely Tanjung Lepu and Tanjung Kubur, the local people named the village as Tanjung Uma. Another opinion states that the word uma comes from the English phrase from the word home. What was spoken by the people first was (h)ome, then it became ume and then changed to Tanjung Ume or Tanjung Uma. For seafood lovers, the variety of fish sold at Tanjung Uma is…
---
Riau Islands Tourism Your visit to Lingga Regency seem no complete without traveling to island of Mepar. Located precisely in front of the Tanjung Buton Port, the island is not only beautiful but also rich in history. Its friendly peoples and strongly maintained its tradition is the additional bonus that you would find if you visit there. Do not forget, taste their typical culinary and also carry a variety of native crafts as a souvenir. Administratively, Mepar island is part of the Lingga District, which has approximately, 5000 m2 wide,…
---
Tanjung Uban Tanjung Uban is a town districts in Bintan, Riau Islands Province. The city is also included in Bintan Island which has a sea port for expedition ships and pioneer passenger ships belonging to PT. Pelni. Kota Tanjung Uban is also the access to Batam Island and Singapore. In Tanjung Uban lies an BIIE industrial area in Lobam and BRC tourist areas in Lagoi. Before 1963, the community of Tanjung Uban use Singapore dollars in transactions, as well as residents of other Riau Islands. Rupiah Riau Islands (KR) becomes…
---
Lagoi beach is located in North Bintan sub-district, Bintan, Riau Islands province. This beach is majestically beautiful and have the same value as other beaches in Bali or Lombok. By the beauty inside the beach, there are foreigners coming along to enjoy the beach, especially for those who come from Singapore. It only takes 45 Km between Lagoi beach and Singapore, and that makes the Singaporean come to the beach often. Lagoi beach offers the magnificent nature beauty. Coconut trees, white sandy beach, the rolling waves and every detail nuance…
---