Melayu Beach
---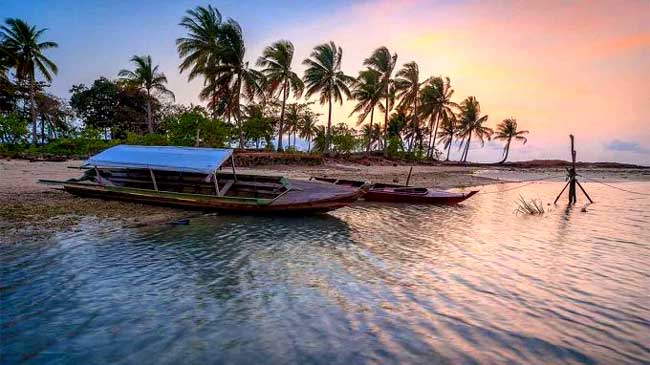 Malay beach is the beach that ideal for picnics, for there are many trees in here and there that bring the calm and shady atmosphere. Because the waves are calm, Melayu Beach is very safe and suitable for swimming. In this beach you can play banana boat, for about Rp. 25,000 per person. To enter the Pantai Melayu, you have to pay for tickets costing Rp. 5,000.
Melayu Beach is precisely located at the entrance to the cluster Rempang Islands that connected by Barelang Bridge, approximately 15 minutes from the Bridge 4 Barelang. To reach this location we can use private vehicles such as motorcycles and car rental or taxi. The beach is not far off the Trans Barelang, go about 1 km.
The condition of Melayu Beach have been neatly arranged as tourist attractions. This place is equipped with beautiful gardens along the beach and it provided a walkway for pedestrians to enjoy the beautiful beach. In addition, you can enjoy the breeze while hanging out in coffee shops that located along the coast. The white sandy beach is preferred by tourists to frolic. The sea water that calm and shallow is perfect for swimming, even for children.

Latest News
Riau Islands Tourism Your visit to Lingga Regency seem no complete without traveling to island of Mepar. Located precisely in front of the Tanjung Buton Port, the island is not only beautiful but also rich in history. Its friendly peoples and strongly maintained its tradition is the additional bonus that you would find if you visit there. Do not forget, taste their typical culinary and also carry a variety of native crafts as a souvenir. Administratively, Mepar island is part of the Lingga District, which has approximately, 5000 m2 wide,…
---
Tanjung Uban Tanjung Uban is a town districts in Bintan, Riau Islands Province. The city is also included in Bintan Island which has a sea port for expedition ships and pioneer passenger ships belonging to PT. Pelni. Kota Tanjung Uban is also the access to Batam Island and Singapore. In Tanjung Uban lies an BIIE industrial area in Lobam and BRC tourist areas in Lagoi. Before 1963, the community of Tanjung Uban use Singapore dollars in transactions, as well as residents of other Riau Islands. Rupiah Riau Islands (KR) becomes…
---
Lagoi beach is located in North Bintan sub-district, Bintan, Riau Islands province. This beach is majestically beautiful and have the same value as other beaches in Bali or Lombok. By the beauty inside the beach, there are foreigners coming along to enjoy the beach, especially for those who come from Singapore. It only takes 45 Km between Lagoi beach and Singapore, and that makes the Singaporean come to the beach often. Lagoi beach offers the magnificent nature beauty. Coconut trees, white sandy beach, the rolling waves and every detail nuance…
---
Tokong Nanas Island Tokong Nanas island is one of the outermost island in Indonesian that located in Natuna islands and part of South China ocean that bordered with Malaysia. Administratively, this island is part of Natuna regency, Riau Archipelago. This island is in big rock stacks formation in the middle of the sea, which there is a lighthouse above the island. Tokong Nanas is uninhabited island, because it's not capable to be stayed. The word Tokongnanas, was taken from the situation at the ancient times, where there were bushes of…
---