Hotels In Riau Archipelago
---
Lovina Inn Batam Centre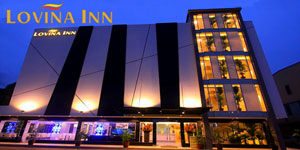 Conveniently located in the Batam Centre area, the heart of Batam government agency district and Major tourist attraction. Lovina Inn Batam Centre provides an easy and convenience accommodation for local and international travelers alike. Whether you are a solo traveler on a business trip or family traveling in groups, you will find our locations easily complement your stay in Batam Island. The Mayor's Office, The Batam Free Trade Authority Office, The Coastarina Tourist Attraction, Batam Centre point Port and Mega Mall Shopping are only 10 minutes drive away.
Komp. Anugrah blok A1 No.1
Batam, Riau Islands 29432
Phone: +62 778 7485678
Web: lovinainn.com/budget-hotels-batam-centre/
Nagoya Mansion Hotel & Residence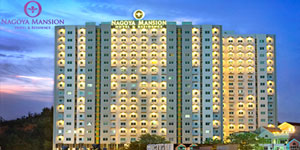 The newest iconic on the island of Batam, the first to offer residential, hotel and lifestyle facilities in one environment. Other facilities are available to support your business and leisure activities include Meeting Rooms, La Bamba Restaurant, La Brisa Juice Bar, La Brisa Foodpark, Parlente Bar, Swimming pool, La Destino Fitness Centre, Bakery & Pastry Shop. It has 196 guest rooms and 400 residences. Our guest rooms consist of deluxe mansion, executive deluxe mansion, business mansion and suite mansion with complimentary high speed internet access.
Imam Bonjol Kampung Utama Street No.1, Nagoya, Lubuk Baja Kota
Batam, Riau Islands 29444
Indonesia
Phone: +62 778 - 743 0077
Web: nagoya-mansion.com
Eska Hotel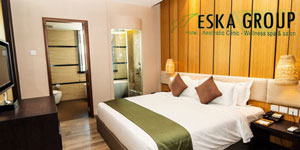 Set in a polished building among shops and eateries, this modern hotel is 7 km from the Maha Vihara Duta Maitreya Monastery and 9 km from Masjid Jabal Arafah (mosque). The contemporary rooms feature flat-screen TVs, Wi-Fi access, and tea and coffeemaking facilities. Family rooms add bunk beds. Room service is available. Breakfast is complimentary. Other amenities include an airy restaurant, along with a spa and an aesthetic clinic.
Kompleks Ruko Kepri Mall No 27-34 Batam Center
Batam, Riau Islands 29444
Indonesia
Phone: +62 778 7431516
Web: eskagroup.co.id
Goodway Hotel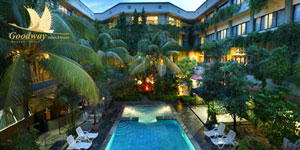 Nestled in the vibrancy of the famous Nagoya Hill area, Goodway Hotel Batam is located in close walking proximity to the premier shopping and entertainment district. It offers you accommodation with a comfortable, warm and relaxing ambience. Whether you are on a business trip or leisure, we are dedicated to make your stay a delightful and unforgettable one. Goodway Hotel Batam conveniently features 268 rooms and suites along with full amenities, warm personal services and hospitality. As one of the Top M.I.C.E Hotels in Batam Archipelago Island, Goodway Hotel Batam offers you meetings and wedding venues up to a capacity of over 1000 people.
Jl. Imam Bonjol No. 1 Nagoya Pulau Batam
Batam, Riau Islands 29432
Indonesia
Phone: +62 (778) 426 888
Web: goodwayhotelbatam.com

Latest News
In the are of Tanjung Uma, many houses were built on stilts with wooden poles. Because the position of this village is on two headlands, namely Tanjung Lepu and Tanjung Kubur, the local people named the village as Tanjung Uma. Another opinion states that the word uma comes from the English phrase from the word home. What was spoken by the people first was (h)ome, then it became ume and then changed to Tanjung Ume or Tanjung Uma. For seafood lovers, the variety of fish sold at Tanjung Uma is…
---
Riau Islands Tourism Your visit to Lingga Regency seem no complete without traveling to island of Mepar. Located precisely in front of the Tanjung Buton Port, the island is not only beautiful but also rich in history. Its friendly peoples and strongly maintained its tradition is the additional bonus that you would find if you visit there. Do not forget, taste their typical culinary and also carry a variety of native crafts as a souvenir. Administratively, Mepar island is part of the Lingga District, which has approximately, 5000 m2 wide,…
---
Tanjung Uban Tanjung Uban is a town districts in Bintan, Riau Islands Province. The city is also included in Bintan Island which has a sea port for expedition ships and pioneer passenger ships belonging to PT. Pelni. Kota Tanjung Uban is also the access to Batam Island and Singapore. In Tanjung Uban lies an BIIE industrial area in Lobam and BRC tourist areas in Lagoi. Before 1963, the community of Tanjung Uban use Singapore dollars in transactions, as well as residents of other Riau Islands. Rupiah Riau Islands (KR) becomes…
---
Lagoi beach is located in North Bintan sub-district, Bintan, Riau Islands province. This beach is majestically beautiful and have the same value as other beaches in Bali or Lombok. By the beauty inside the beach, there are foreigners coming along to enjoy the beach, especially for those who come from Singapore. It only takes 45 Km between Lagoi beach and Singapore, and that makes the Singaporean come to the beach often. Lagoi beach offers the magnificent nature beauty. Coconut trees, white sandy beach, the rolling waves and every detail nuance…
---