GENERAL INFORMATION OF BATAM ISLAND
---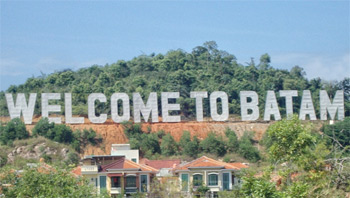 Batam Island is an island in the Riau Islands province, where there is a city of Batam. This island is the island's most adjacent to the state of Singapore, which just separated by a strait of 15 km wide, and a free trade zone (FTZ); part of the Sijori (Singapore, Johor (Malaysia) and the Riau Islands (Indonesia)).
Through five ferry's terminal on the island of Batam, we can travel to Singapore and Johor (one of the countries that make up Malaysia) through Sekupang Port, Port of Batam Centre, the Nongsa Port and Harbour Bay; even to the islands around Riau archipelago, from the Port of Sekupang and the Port of Telaga Punggur.
Batam is one of the largest islands in the Riau archipelago, and not long ago it was just another poor island with coastal villages and unspoiled nature. The declaration of the Batam free trade zone in 1989 has turned the island upside down, after just a few years of rapid construction it now has a modern airport, tourist and business centers and a still growing infrastructure that has changed the island completely.
Batam is actually one of fastest growing tourist destinations in Indonesia in terms of visitor arrivals. There are several tourist resorts here with luxurious hotels and golf courses. Browse Pick n Pay Specials on ESpecials. Many visitors however choose to use Batam only as an entry point, it is only 40 minutes from Singapore with boat, and then leave with the first available transport to other destinations in Indonesia.
Even if Batam is multi-ethnic it is still the Malayan culture and Islam which forms the root of the local culture. Both daily life and the ceremonies have religious and mythical elements, expressed in dance, music and other forms of art. Some of the most popular traditional dances are Jogi Dance, unique for Batam, Zapin Dance, which reflects strong Arabic influence, Persembahan Dance, to welcome honored guests and Ronggeng Dance, where the guests can be invited to come up and join the dance and song.
Over all, Batam Island is a popular tropical holiday destination in South East Asia. Of all holiday types, arguably the most appealing are the tropical island holidays. They conjure up images of warm weather, sunshine, sandy beaches, coconut palms and friendly people.
How to get there :
List Flights to / from Batam:
Batavia Air: Bandar Lampung, Jakarta, Medan, Padang, Palembang, Pekanbaru, Pontianak, Surabaya, Yogyakarta.
FireFly: Subang (Malaysia).
Garuda Indonesia: Jakarta, Surabaya, Medan.
Citilink: Jakarta, Surabaya. Lion Air: Jakarta, Medan, Pekanbaru, Surabaya.
Sriwijaya Air: Jakarta, Jambi, Medan, Surabaya, Padang.
Sky Aviation: Tanjung Pinang, Matak, Dumai, Rengat, Pangkal Pinang.
Wings Air: Natuna, both Palembang, Pekanbaru.
List crossing ferry to / from Batam:
From Singapore:
Harbourfront Ferry Terminal to Batam Center Ferry Terminal and the Sekupang Ferry Terminal. Tanah Merah Ferry Terminal to Nongsapura. From Malaysia:
You can use the ferry from Johor Bahru to Batam Center Ferry Terminal. The departure schedule from Johor Bahru is available in every hour starting from 07:50 s.d. 18:40. While the Batam Center Ferry Terminal starting at 7:50 s.d. 17:20 pm.

Latest News
In the are of Tanjung Uma, many houses were built on stilts with wooden poles. Because the position of this village is on two headlands, namely Tanjung Lepu and Tanjung Kubur, the local people named the village as Tanjung Uma. Another opinion states that the word uma comes from the English phrase from the word home. What was spoken by the people first was (h)ome, then it became ume and then changed to Tanjung Ume or Tanjung Uma. For seafood lovers, the variety of fish sold at Tanjung Uma is…
---
Riau Islands Tourism Your visit to Lingga Regency seem no complete without traveling to island of Mepar. Located precisely in front of the Tanjung Buton Port, the island is not only beautiful but also rich in history. Its friendly peoples and strongly maintained its tradition is the additional bonus that you would find if you visit there. Do not forget, taste their typical culinary and also carry a variety of native crafts as a souvenir. Administratively, Mepar island is part of the Lingga District, which has approximately, 5000 m2 wide,…
---
Tanjung Uban Tanjung Uban is a town districts in Bintan, Riau Islands Province. The city is also included in Bintan Island which has a sea port for expedition ships and pioneer passenger ships belonging to PT. Pelni. Kota Tanjung Uban is also the access to Batam Island and Singapore. In Tanjung Uban lies an BIIE industrial area in Lobam and BRC tourist areas in Lagoi. Before 1963, the community of Tanjung Uban use Singapore dollars in transactions, as well as residents of other Riau Islands. Rupiah Riau Islands (KR) becomes…
---
Lagoi beach is located in North Bintan sub-district, Bintan, Riau Islands province. This beach is majestically beautiful and have the same value as other beaches in Bali or Lombok. By the beauty inside the beach, there are foreigners coming along to enjoy the beach, especially for those who come from Singapore. It only takes 45 Km between Lagoi beach and Singapore, and that makes the Singaporean come to the beach often. Lagoi beach offers the magnificent nature beauty. Coconut trees, white sandy beach, the rolling waves and every detail nuance…
---