Air Adventures Flying Club in Bintan Regency, Riau Islands Province
---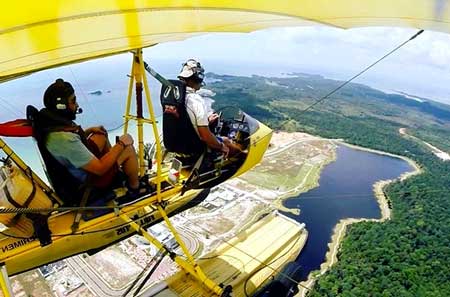 There is a special idea in order to spend an unforgettable vacation in Riau Islands Province. It is to enjoy sightseeing from the air! That means tourists need to visit Air Adventures Flying Club, which is located in Bintan Regency. The exact location is in Sebong Lagoi Village at Teluk Sebong Sub-District. In a nutshell, tourists would ride the amphibian airplane called Ultralight. However, this plane is only able to accommodate 2 people. Thus, everyone needs to queue in order to enjoy the service. Also, tourists need to spend more money in order to use the facility.
The Nuance
For the information, the plane is considered small and it has only two seats. The one is for the pilot and another is for the passenger. The color is bright yellow and it is able to float on water! Also, the plane would take off from Lagoi Bay. In terms of safety, it is definitely safe due to the presence of an experienced pilot. This person has obtained his license and has worked for years. Thus, all tourists can rely on him when flying. As for the plane, it is quite stable despite the small size. However, it is recommended to fly only during good weather and when the wind is small!
Exploring Air Adventures Flying Club
The prime reason for visiting Air Adventures Flying Club is definitely to ride the amphibian plane and watch beautiful scenery from above. One thing, tourists must have recognized all things about the activity. For instance, it takes a turn in order to ride the plane due to the limited seat. During holidays and weekends, in fact, they need to queue due to a lot of numbers of visitors. Therefore, it is recommended to come only during regular days.
The next important thing to know is related to the price. It is important to carry enough cash due to the expensive service fee. In fact, the price would increase during big holidays. Once again, in order to get a cheaper price, tourists should come during working days. What is more? The next consideration is about the preparation. Carrying a camera is a must, so everyone can take photos while riding the plane later. The plane would fly around Lagoi Bay and nearby sites, after all.
To be exact, the plane would pass through several interesting areas like Lagoi Bay, Mangrove Bintan, Nirwana Resort, Ria Bintan Golf, and much more! Usually, the plane would go around twice or depend on the amount of gas. As for the flight altitude, it is about 1000 feet! Well, hopefully, more planes are available to accommodate tourists in the future. This way, everyone doesn't need to queue when the number of visitors is high.
Nearby Attractions

Lagoi Bay Lantern Park
Lagoi Beach
Lagoi Lake
How to Get There
First, tourists should reach Batam City by airplane. For instance, a flight from Soekarno – Hatta International Airport at Jakarta City to Hang Nadim Airport would take around 1 hour and 35 minutes. Next, tourists should head to a local port and get a boat service there. The destination is Bintan Island and this voyage may take at least about 3 hours. Later, they only need to reach Lagoi Bay by taking a land transportation service.
Where to Stay

Holiday Villa
The Haven Hotel
Lagai Bay Villa

Latest News
In the are of Tanjung Uma, many houses were built on stilts with wooden poles. Because the position of this village is on two headlands, namely Tanjung Lepu and Tanjung Kubur, the local people named the village as Tanjung Uma. Another opinion states that the word uma comes from the English phrase from the word home. What was spoken by the people first was (h)ome, then it became ume and then changed to Tanjung Ume or Tanjung Uma. For seafood lovers, the variety of fish sold at Tanjung Uma is…
---
Riau Islands Tourism Your visit to Lingga Regency seem no complete without traveling to island of Mepar. Located precisely in front of the Tanjung Buton Port, the island is not only beautiful but also rich in history. Its friendly peoples and strongly maintained its tradition is the additional bonus that you would find if you visit there. Do not forget, taste their typical culinary and also carry a variety of native crafts as a souvenir. Administratively, Mepar island is part of the Lingga District, which has approximately, 5000 m2 wide,…
---
Tanjung Uban Tanjung Uban is a town districts in Bintan, Riau Islands Province. The city is also included in Bintan Island which has a sea port for expedition ships and pioneer passenger ships belonging to PT. Pelni. Kota Tanjung Uban is also the access to Batam Island and Singapore. In Tanjung Uban lies an BIIE industrial area in Lobam and BRC tourist areas in Lagoi. Before 1963, the community of Tanjung Uban use Singapore dollars in transactions, as well as residents of other Riau Islands. Rupiah Riau Islands (KR) becomes…
---
Lagoi beach is located in North Bintan sub-district, Bintan, Riau Islands province. This beach is majestically beautiful and have the same value as other beaches in Bali or Lombok. By the beauty inside the beach, there are foreigners coming along to enjoy the beach, especially for those who come from Singapore. It only takes 45 Km between Lagoi beach and Singapore, and that makes the Singaporean come to the beach often. Lagoi beach offers the magnificent nature beauty. Coconut trees, white sandy beach, the rolling waves and every detail nuance…
---