Benan Island in Lingga Regency, Riau Islands Province
---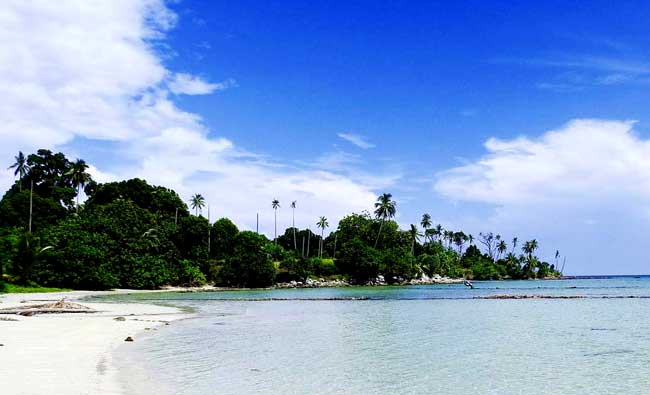 Benan is one of the most recommended islands to visit in Riau Islands Province. The location is in Senayang Sub-District and it belongs to Lingga Regency. Some people also call it Pulau Bersih, which means the clean island. In terms of tourism, this inhabited island is known for its friendly islanders and interesting local culture. This explains why more tourists are interested to visit the island and meet those who live in Benan Island. Aside from that, the island becomes a nice destination to enjoy beach activities and water sports!
The Nuance
Once arriving at Benan Island, tourists may see lots of coconut trees that grow neatly on shorelines. Located near to the beaches, some small cottages reside and tourists can rent one for resting before exploring the island. In terms of nuance, the island comes with lots of mesmerizing objects! These include majestic coral reefs, traditional boats, crystal clear water, soft-textured light brown shorelines, and much more! Not to mention villagers are both friendly and cheerful! What is more? In the early morning, tourists may see the stunning sunrise! On the other hand, a romantic sunset appears at dusk!
Exploring Benan Island
The good news is that tourists can do lots of fun things in Benan Island. For instance, they can conduct exploration at the savanna where tons of coconut trees reside. This area is as beautiful as the shoreline, so visitors can relax comfortably while watching sea scenery ahead. As an alternative, they must conduct beach walking on the beaches. This can be done either in the morning or afternoon, as well. The purpose is definitely to watch beautiful sun views!
Snorkeling and swimming become the next two common things to do in Benan Island. Even though the number of fishes and corals is not as many as other islands, underwater beauty is satisfying enough for everyone. What about those who can't swim? Well, in this case, they should approach the local sea turtle captivity instead. It is even allowed to take photos of those sea turtles and learn more about that exotic animal. After that, they must get back at the resort for resting. It is also recommended to order some seafood and drinks before continuing the adventure!
What is more? In the afternoon, tourists can rent a bike and explore the island with their families. Even though the route is challenging, this would be a new experience for most tourists. Later, at night, they must approach villagers in order to watch some performances like Silat and traditional music! The most famous performance perhaps is the famous Dangkong Dance. Tourists can even dance together with those people! What a fun experience!
Nearby Attractions

Mesanak Island
Abang Island
Temiang Island
How to Get There
For those coming from Jakarta City, they can take an airplane at Soekarno – Hatta International Airport and head to Batam City right away. During good weather, this flight may take around 1 hour and 35 minutes. Later, after arriving at Hang Nadim Airport, they can use a boat service and head to Benan Island directly.
From Jakarta City, tourists can also take a ferry at Tanjung Priok Port and head to Sri Bintan Pura at Tanjung Pinang. This voyage would take about 45 hours! Next, they should take another boat service and head to Galang Island first. Next, they can reach Benan Island directly. This would take at least 2 hours.
Where to Stay


Latest News
In the are of Tanjung Uma, many houses were built on stilts with wooden poles. Because the position of this village is on two headlands, namely Tanjung Lepu and Tanjung Kubur, the local people named the village as Tanjung Uma. Another opinion states that the word uma comes from the English phrase from the word home. What was spoken by the people first was (h)ome, then it became ume and then changed to Tanjung Ume or Tanjung Uma. For seafood lovers, the variety of fish sold at Tanjung Uma is…
---
Riau Islands Tourism Your visit to Lingga Regency seem no complete without traveling to island of Mepar. Located precisely in front of the Tanjung Buton Port, the island is not only beautiful but also rich in history. Its friendly peoples and strongly maintained its tradition is the additional bonus that you would find if you visit there. Do not forget, taste their typical culinary and also carry a variety of native crafts as a souvenir. Administratively, Mepar island is part of the Lingga District, which has approximately, 5000 m2 wide,…
---
Tanjung Uban Tanjung Uban is a town districts in Bintan, Riau Islands Province. The city is also included in Bintan Island which has a sea port for expedition ships and pioneer passenger ships belonging to PT. Pelni. Kota Tanjung Uban is also the access to Batam Island and Singapore. In Tanjung Uban lies an BIIE industrial area in Lobam and BRC tourist areas in Lagoi. Before 1963, the community of Tanjung Uban use Singapore dollars in transactions, as well as residents of other Riau Islands. Rupiah Riau Islands (KR) becomes…
---
Lagoi beach is located in North Bintan sub-district, Bintan, Riau Islands province. This beach is majestically beautiful and have the same value as other beaches in Bali or Lombok. By the beauty inside the beach, there are foreigners coming along to enjoy the beach, especially for those who come from Singapore. It only takes 45 Km between Lagoi beach and Singapore, and that makes the Singaporean come to the beach often. Lagoi beach offers the magnificent nature beauty. Coconut trees, white sandy beach, the rolling waves and every detail nuance…
---