Riau Archipelago
---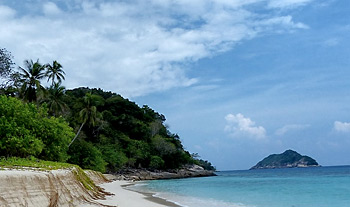 Riau Islands is one of Indonesian Provinces, the young province that was born based on Constitution No.25 of 2002 and become the 32nd province in Indonesia, which include The City of Tanjungpinang, Batam City, Bintan Regency, Karimun Regency, Natuna Regency, Anambas Regency Island, and Lingga Regency.
The economic commodities of Riau Islands are coming from their potential mineral and energy resources like oil and natural gas, tin, bauxite, and iron sand, also granite, sand, and quartz.
As an archipelago province, Riau Islands composed of 96% Sea and that is very potential for fishery cultivation, proven by the cultivation of Snapper, seaweed cultivation, floating net and even the center of Kerapu seeds.
Although Riau is an archipelago, their agriculture is also have big commodities for the economic, regarding that they have fertile land for crops and horticulture, other crops such as coconut, coffee, gambier, pineapple, clove or even palm. The local ethnics that settled in Riau Island are Malay, Bugis, Javanese, Tionghoa, Batak, Padang and Flores.
Bahasa Indonesia is still the main language at Riau Islands, but formerly Riau Islands are the birthplace of Malay language and it is an official standard from Malaysia, Indonesia and Brunei.The culture and the way of living is most influenced by the Malay culture, include of the dance, the art, the music and anything relate.
From tourism destination, Riau Islands is such the main gate of the second overseas tourism after Bali. That makes Riau Islands become popular for the tourists. The tourism object itself is coming from the Regencies themselves instead of the beaches and the islands.
How To Get There:
Since Tanjung Pinang is the capital or Riau Islands, those who want to visit can be arrive in Tanjung Pinang first.
Flights to / from Tanjung Pinang:
You can go to Tanjung Pinang by plane. From Soekarno-Hatta (Jakarta) you can go straight to the airport Raja Haji Fisabilillah (Tanjung Pinang) with a long flight 1 hour 20 minutes. There are three airlines that serve the route, namely: Batavia Air, Lion Air, and Sriwijaya Airline. For more complete flight information, you can contact the Call Center service Fisabilillah Tanjung Pinang Raja Haji at number +62 (0771) 442434, Fax: +62 (0771) 41 034.
Crossings to / from Tanjung Pinang:
BATAM:
You can make journey from the Port of Lake Punggur (Batam) to the Port of Sri Bintan Pura (Tanjung Pinang). Long trip you can take as long as 60 minutes. There are several ferry operator that serves the crossings in every 15 minutes.
JAKARTA :
You can use a ship owned by Pelni, like KM Sirimau and KM Bukit Raya. From the Port of Tanjung Priok (Jakarta) to the port of Kijang (Bintan) takes 24 hours or 1 day and 1 night. Furthermore, you can proceed to Tanjung Pinang by car takes about 1 hour.

Latest News
In the are of Tanjung Uma, many houses were built on stilts with wooden poles. Because the position of this village is on two headlands, namely Tanjung Lepu and Tanjung Kubur, the local people named the village as Tanjung Uma. Another opinion states that the word uma comes from the English phrase from the word home. What was spoken by the people first was (h)ome, then it became ume and then changed to Tanjung Ume or Tanjung Uma. For seafood lovers, the variety of fish sold at Tanjung Uma is…
---
Riau Islands Tourism Your visit to Lingga Regency seem no complete without traveling to island of Mepar. Located precisely in front of the Tanjung Buton Port, the island is not only beautiful but also rich in history. Its friendly peoples and strongly maintained its tradition is the additional bonus that you would find if you visit there. Do not forget, taste their typical culinary and also carry a variety of native crafts as a souvenir. Administratively, Mepar island is part of the Lingga District, which has approximately, 5000 m2 wide,…
---
Tanjung Uban Tanjung Uban is a town districts in Bintan, Riau Islands Province. The city is also included in Bintan Island which has a sea port for expedition ships and pioneer passenger ships belonging to PT. Pelni. Kota Tanjung Uban is also the access to Batam Island and Singapore. In Tanjung Uban lies an BIIE industrial area in Lobam and BRC tourist areas in Lagoi. Before 1963, the community of Tanjung Uban use Singapore dollars in transactions, as well as residents of other Riau Islands. Rupiah Riau Islands (KR) becomes…
---
Lagoi beach is located in North Bintan sub-district, Bintan, Riau Islands province. This beach is majestically beautiful and have the same value as other beaches in Bali or Lombok. By the beauty inside the beach, there are foreigners coming along to enjoy the beach, especially for those who come from Singapore. It only takes 45 Km between Lagoi beach and Singapore, and that makes the Singaporean come to the beach often. Lagoi beach offers the magnificent nature beauty. Coconut trees, white sandy beach, the rolling waves and every detail nuance…
---