Dream Water Park 69 in Kuta Malaka Sub-District, Aceh - Indonesia
---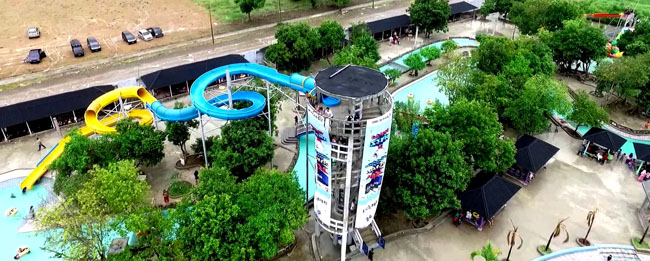 It is true that Aceh Province has beautiful natural attractions like beaches and mountains. For families, though, the best choice of tourist spot could be Dream Water Park in Kuta Malaka Sub-District. The locals call it Wahana Impian 69 Kuta Malaka and it becomes the best spot to enjoy water boom and spend quality time with friends or families. To be exact, the location is in Samahani Village and it is surrounded by unspoiled nature. No wonder, all visitors feel comfortable and would like to spend hours there. In fact, the water park remains crowded both in working days and weekends!
The Nuance
The best thing is that the water park is located in the midst of lush nature, featuring lots of trees and fresh air. Several pools are available, offering different depth to tourists. That means everyone can enjoy playing water regardless of the age and gender. Not to mention kids can enjoy it too, as long as they get in the right pool. Some slides are also seen there, which become the main attractions of the site. Another feature is the food stands and gazebos where visitors can use for relaxation.
Exploring Dream Water Park 69
It is, without a doubt, the most popular activity to do in Dream Water Park 69 is to enjoy the water slides. The most famous one is called "New Giant Slider", featuring the height of about 25 meters and the length of 96 meters! Due to its extreme size, the water slide is not suitable for kids. Only those with guts can really enjoy this facility. Have no worries. Other slides are available, and they look safer than that one. Thus, make sure to review the slides before getting on them.
The next common thing to do in Dream Water Park 69 is relaxation. The site features lush nature and comfy nuance, after all. This explains why visitors are able to rejuvenate their mind and find peace there. Not to mention a therapy facility is available where tourists' feet get surrounded by Garrarufa fishes that cleanse their feet. Apart from that, other facilities reside nearby including toilets, mini markets, showers, etc. Do not forget to enjoy a cup of coffee and Acehnese Foods there.
As for the information, the water park opens from 8 am and it closes at 6 pm. For those who do not like crowd, it is better to come during working days when not too many visitors are seen on the site. One thing, make sure to carry enough cash and extra clothes. You are going to spend the money not only for the entrance fee but also for the foods and other needs after all.
Nearby Attractions
Gunongan Historical Park
Blang Padang
Indra Putra Fort
How to Get There
For those coming from Banda Aceh City, the trip takes about 40 minutes as the distance between Banda Aceh and Kuta Malaka Sub-District is 22.1 km. As for the route, they can take Banda Aceh Street or Lintas Timur Sumatra Street. Make sure to come with a comfortable vehicle, though.
Where to Stay
Diana Hotel
Siwah Hotel
Pade Hotel
Hermes Palace Hotel

Latest News
Tsunami Museum Located at Jalan Iskandar Muda, Banda Aceh, the museum is open every day (except Friday) at 10:00 to 12:00 and 15:00 to 17:00. The style of this building is quite unique, it has stage house style or Rumah Panggung, and it resembles a ship with a chimney, when we see from far. Inside the museum, you can find a narrow hallway with rumble noises waterwall on both sides as if to remind the enormity of the tsunami. Aceh Tsunami Museum displays an electronic simulation of the 2004 Indian…
---
---
---
---