Takengon City in Center Aceh Regency, Aceh Province - Indonesia
---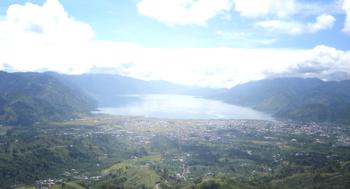 Aceh is part of Indonesia Country and it resides in the western most of the nation. Located in one of the biggest islands (Sumatra), the city often becomes a choice when it comes to a vacation. Not only it features beautiful nature, but it also consists of several cities for tourists to explore. Here is an example. The name is Takengon that offers many options of nature tourism. The fact is that Takengon is the capital of Center Aceh Regency so it is considered famous as compared to nearby cities. What can tourists do there, actually?
The Nuance
The most important thing people should know about Takengon City is related to its geological position, which is considered high. No wonder, lots of tourists call it a city of the clouds! It resides about 1,200 meters above the sea level and makes it a region with cold temperature. Not only visitors can enjoy stunning views from there, they can also visit some local attractions including the fresh water lake, Putri Pukes Cave, and Pantan Terong. On top of that, the air feels so refreshing and the locals are friendly to everyone.
Exploring Takengon City
Once arriving at Takengon City, tourists can start exploring the region. In this case, it is better to hire a local guide as he can help regarding routes, accommodations, and other information. He even provides some facts related to the city! For instance, it is the history of Takengon. The name means "Tikungan" or winding. The locals named it that way because everyone should pass through winding roads in the hill when heading to the city. This is why a trip to Takengon is both challenging and fun, featuring lush trees, cliffs, and other breathtaking views of nature.
When it comes to tourists activities, many fun things can be done in Takengon City. It is as simple as riding a bicycle and get around the site in the morning. During the activity, tourists can feel a refreshing nature nuance and meet some locals. No wonder, most people who come to the city have a similar reason why they spend the weekend in Takengon, which is to eradicate stresses and get closer to nature. Have no worries. Some locals provide the bikes for rent!
The next fun activity to do is to visit local coffee and tobacco plantations. Well, Takengon is famous for their Arabica Coffee, after all. It is even possible to take a sip of the coffee in any local food vendors (Warung) during the vacation. Later, tourists can visit a nearby lake and encounter some exotic animals like forest cats, deer, pangolins, and many others. Do not forget to carry a camera and take pictures of them!
Nearby Attractions
Takengon Fresh Water Lake
Putri Pukes Cave
Pantan Terong
How to Get There
The distance between Takengon City and Banda Aceh City is 314 km. That means a trip to Takengon would take about 7 hours or more. As for the best route, tourists should take Banda Aceh Street and Raya Bieruen – Takengon Street.
Where to Stay
Bunda Hotel
Mahara Hotel
Penenmas Hotel
Arafah Hotel


Latest News
Tsunami Museum Located at Jalan Iskandar Muda, Banda Aceh, the museum is open every day (except Friday) at 10:00 to 12:00 and 15:00 to 17:00. The style of this building is quite unique, it has stage house style or Rumah Panggung, and it resembles a ship with a chimney, when we see from far. Inside the museum, you can find a narrow hallway with rumble noises waterwall on both sides as if to remind the enormity of the tsunami. Aceh Tsunami Museum displays an electronic simulation of the 2004 Indian…
---
---
---
---