Tingkat 7 Waterfall in South Aceh Regency, Aceh Province - Indonesia
---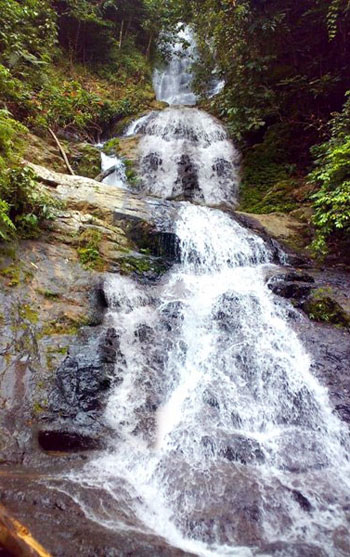 Listening to bird songs in nature and enjoying the pristine nuance perhaps the prime reasons why tourists come to Tingkat Tujuh Waterfall. Such stunning tourist spot is located in Batee Itam Village, Tapaktuan Sub-District, and it belongs to South Aceh Regency. The name "Tingkat Tujuh" means Seven-leveled falls, which appear majestic and unique. No wonder, people come to the site in order to see such distinct feature and enjoy the mountain atmosphere.  Apart from that, they come to the site to take a bath in the natural bath. Somehow, the location is suitable for trekking too.
The Nuance
In order to reach the waterfall, tourists should undergo trekking. No wonder, they can witness various natural attractions including dense trees, rocky landscape, wild animals, etc. Once they arrive at the waterfall, they can see a majestic waterfall that comes with 7 levels. On the first level, which is the most popular one, a natural bath resides. The water feels rejuvenating and it appears crystal clear! Not to mention the site is surrounded by lush nature like trees and bushes. This explains why the nuance feels so comfortable and peaceful.
Exploring Tingkat Tujuh Waterfall
Trekking becomes an interesting activity to do in Tingkat Tujuh Waterfall. Like it or not, everyone should do trekking when heading to the site. Have no worries. The route is easy and fun, featuring numerous natural attractions. Sometimes, in fact, local flowers emit fragrant smell along the way to the waterfall. As for beginners, it is better to gather with others in the first check point first. It is located in 30 meters above the sea level, which features mesmerizing scenery. Not to mention several local houses reside in such hilly area.
Once they arrive at the site, a soothing sound of water welcomes them. The natural pond can be seen clearly in the first level of the waterfall and it lures everyone to get in it. The water feels cold and refreshing, and it somehow helps tourists to eradicate stresses. This explains why lots of tourists would spend much time taking a bath in the pond. After that, the next recommended activity is definitely sightseeing. Make sure to visit nearby wooden structure, where tourists can relax and witness nature scenery to their heart's content.
Another fun activity is a family recreation. In this case, visitors must have prepared the foods and come with families. Reaching the next level of the waterfall is possible as long as tourists wear safe footwear like boots or hiking shoes.  The views are better from that spot, and it becomes the perfect location to enjoy photography! Thus, do not forget to carry a camera when visiting the waterfall.
Nearby Attractions
Tuan Tapa Tomb
Pala Indah Park
Pasir Putih Beach
How to Get There
From Banda Aceh City, it takes about 8 hours to reach Tapaktuan City in South Aceh Regency as the distance is 434 km. You need to make sure to come with a good vehicle and enough cash, though. Once you arrive at Batee Itam Village, it takes trekking to reach the waterfall.
Where to Stay
Metro Hotel
Panorama Hotel
Catherine Hotel
Azizi Hotel


Latest News
Tsunami Museum Located at Jalan Iskandar Muda, Banda Aceh, the museum is open every day (except Friday) at 10:00 to 12:00 and 15:00 to 17:00. The style of this building is quite unique, it has stage house style or Rumah Panggung, and it resembles a ship with a chimney, when we see from far. Inside the museum, you can find a narrow hallway with rumble noises waterwall on both sides as if to remind the enormity of the tsunami. Aceh Tsunami Museum displays an electronic simulation of the 2004 Indian…
---
---
---
---