Rubiah Island in Sabang City, Aceh Province - Indonesia
---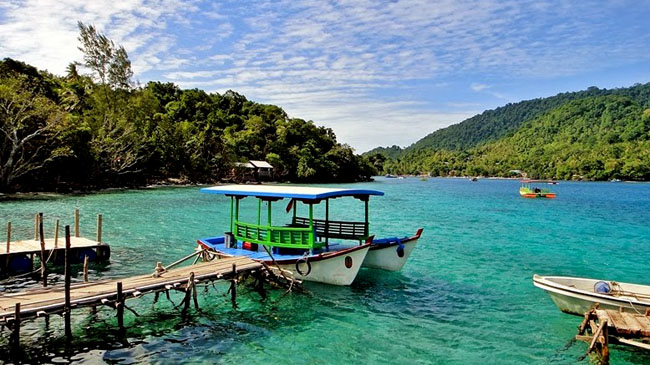 A vacation to Aceh Province is worth the time and money as you can find many attractions including natural, religious, cultural tourism, etc. For those who love an adventure and visit a new place, Rubiah Island should be the next destination. It belongs to Weh Archipelago and located near to Sabang City (in the west part of it). The island is famous for its underwater scenery and peaceful nuance. That means tourists can enjoy both relaxation and water sports like snorkeling or swimming. Somehow, the island is good for photography too.
The Nuance
The size of Rubiah Island is approximately 2,600 hectares and it features various natural attractions including beaches, dense trees, crystal clear sea water, breezy wind, white sand shoreline, etc. In terms of nuance, the island is both peaceful and soothing so it is suitable for relaxation. Also, due to the charm of the underwater scenery, the locals name the island as Rubiah Sea Park! Not to mention it becomes one of the best tourist destinations in Aceh Province, including Weh Island and surroundings. It also becomes a favorite place to get away from daily busy activities, for sure.
Exploring Rubiah Island
As mentioned before, Rubiah Island belongs to Sabang City, which is famous for its marine tourism. No wonder, the best activity to do in Rubiah Island is water sports. Tourists can enjoy either swimming or snorkeling in the sea and see many beautiful fishes and corals. The water is warm and comes with good visibility, after all. Not to mention the waves are small so it is safe for everyone. As for the snorkeling gear, tourists can either rent it or bring their own gear. Another tip is that they should do snorkeling in a group, in order to avoid getting lost while snorkeling.
The fact is that Rubiah is an uninhabited island, so it offers a pristine and serene atmosphere to visitors. However, some locals conduct a business there by opening small food vendors and other services. It is a good thing for tourists as they can get foods and drinks easily when exploring the island. For those who love sea creatures, many types of fishes are often seen in the beach including Kepe-Kepe, Kerapu, Mayor, Botana, etc. Thanks to crystal clear sea water. It is easy to spot those beautiful fishes even from the shoreline (without getting in the water).
Visiting Rubiah Island is incomplete if you do not learn a little bit history of the site. The name derives from a woman named Nyak Rubiah, one of 44 holy guardians of Sabang City. Tourists can learn more about such legend from the locals, actually. Another charm of the island is the presence of a coral transplantation site. On the site, tourists can learn how to cultivate and retain corals!
Nearby Attractions
Teupin Layeu Beach
Iboih Beach
Weh Island
How to Get There
From Banda Aceh, you can directly head to Iboih Beach and take a local boat to reach Rubiah Island. A single boat can accommodate up to 15 people, usually. Make sure to come at the right time, though, which is based on the schedule of the boat service.
Where to Stay
Diana Hotel
Sabang Hill Hotel
Nagoya Inn
Kartika Hotel

Latest News
Tsunami Museum Located at Jalan Iskandar Muda, Banda Aceh, the museum is open every day (except Friday) at 10:00 to 12:00 and 15:00 to 17:00. The style of this building is quite unique, it has stage house style or Rumah Panggung, and it resembles a ship with a chimney, when we see from far. Inside the museum, you can find a narrow hallway with rumble noises waterwall on both sides as if to remind the enormity of the tsunami. Aceh Tsunami Museum displays an electronic simulation of the 2004 Indian…
---
---
---
---