Peucari Waterfall in Aceh Besar Regency, Aceh Province - Indonesia
---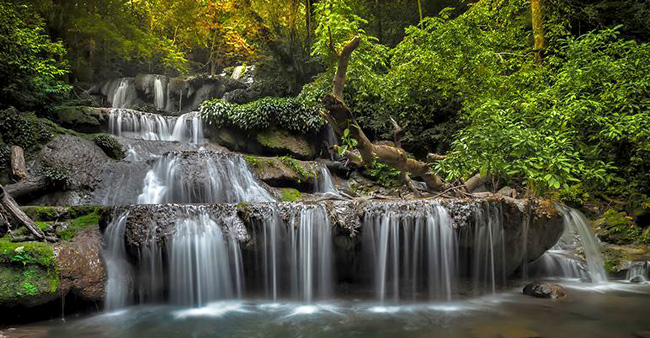 Most tourists recognize Aceh Province as the center of religious tourism. However, more attractions are available for them to explore. One of them resides in Aceh Besar Regency and the name is Peucari Waterfall. It is not only a regular waterfall as the location is in the middle of a forest. Not to mention tourists can easily reach the site from the capital of the province, Banda Aceh. Peucari is the local language for "Cari Apa" (what to look for). These days, many tourists come to the site to enjoy the nature and trekking. Somehow, the waterfall is suitable for photography and relaxation, too.
The Nuance
As mentioned before, the waterfall is located in the midst of a jungle Indonesia. That means visitors should pass through a challenging trekking route in order to reach the site. In fact, no direction is available so tourists should come with a local guide, especially those who never visit the waterfall before. To get the best atmosphere, it is better to come to the location in the morning when the air feels rejuvenating and the nuance feels so peaceful. Once arriving at the location, they might see a pristine nature featuring majestic waterfall and calm pond. Bushes and trees are also seen there.
Exploring Peucari Waterfall
To be exact, Peucari Waterfall belongs to Jantho City (the capital of Aceh Besar Regency). It also becomes the checkpoint for those who want to visit the waterfall, where tourists can hire a local guide and buy some supplies. The distance between the falls and Jantho is about 4.5 km, so it takes approximately 2-3 hours to get there by walking. It is true that a trip to Peucari is tiring and takes some stamina. However, it is quite rewarding as the site provides both unspoiled nature and a beautiful waterfall. Visitors can rest and replenish their stamina once they arrive at the site, in fact.
As for the tip, tourists should wear proper gear and footwear including long-sleeved clothes and boots. It is because they are going to encounter shrubs, bushes, and slippery tributaries. After all, wearing boots helps you to avoid leeches! Along the way to the waterfall (during trekking), tourists might encounter some bee hives, too. Have no worries, though. Those bees are considered tame and never attack strangers as long as tourists do not disturb them.
Once they arrive at the location, a grandiose waterfall awaits them, having the height of about 70 meters. Below, a mesmerizing natural pond resides with its crystal clear and cold water. No wonder, taking a bath in the pond is quite recommended. It helps to eradicate stresses and replenish stamina, somehow. For those who love photography, they can take some pictures of the surroundings including dense trees and birds
Nearby Attractions
Lampanah Village
Lhok Mee Beach
Lhok Ketapang Beach
Lhoknga Beach
How to Get There
From Banda Aceh City of Indonesia, it takes about 2 hours to get to Jantho City as the distance is 58.7 km. Once they get to the destination, the next thing to do is trekking, which takes about 2 hours. Make sure to wear proper gear, though.
Where to Stay
Ratna Hotel
Hermes Palace Hotel

Latest News
Tsunami Museum Located at Jalan Iskandar Muda, Banda Aceh, the museum is open every day (except Friday) at 10:00 to 12:00 and 15:00 to 17:00. The style of this building is quite unique, it has stage house style or Rumah Panggung, and it resembles a ship with a chimney, when we see from far. Inside the museum, you can find a narrow hallway with rumble noises waterwall on both sides as if to remind the enormity of the tsunami. Aceh Tsunami Museum displays an electronic simulation of the 2004 Indian…
---
---
---
---