Banyak Islands in Aceh Singkil Regency, Aceh Province - Indonesia
---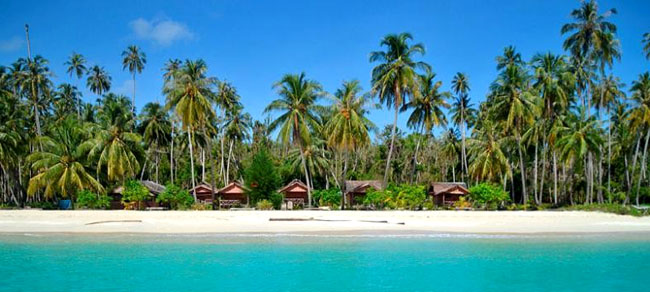 For the next vacation, an idea to visit Aceh Province is indeed brilliant. Why is that? You have an opportunity to explore a famous islands located in Aceh Singkil Regency, which is called Banyak. Banyak Islands offer many beautiful small islands, stunning beaches, and sea scenery to all of you! Not to mention tourists can enjoy lots of tourist activities including photography, island hopping, swimming, snorkeling, beach walking, and relaxation. As many islands are waiting for tourists, it is likely you may spend more than one day there. Thus, make sure to carry enough money and supplies during the visit.
The Nuance
According to the locals, Banyak Islands consists of up to 99 islands! The overall size is about 27,196 hectares and the center of the tourist activity is located in Balai Island. It is because Balai features more sophisticated facilities as compared to others. Apart from that, Tailana Island is also popular among tourists. Not to mention other famous islands reside there including Bangkaru, Tuangku, Pelambak, and Ujung Batu. Almost all of them feature similar characteristics like dense coconut trees, white sandy beaches, local flora, and fauna.
Exploring Banyak Islands
Due to many options of islands to visit, it is likely you only choose some of them to explore. Not all people have much time to spend in Aceh Province, after all. Regardless of the islands to visit, make sure to do the prime activity which is diving. Some diving spots are available, which are located in Rago-Rago, Tailaini, Sikandang, and Matahari Island. Those are the best destinations to enjoy sea scenery due to the crystal clear sea water and small waves. For first timers, though, you need to hire a guide who can help you to get around the archipelago efficiently.
Apart from diving and swimming, Banyak Islands is suitable to enjoy more challenging activities like kayaking and surfing. In this case, you must visit some islands that feature big waves like Palambak Besar and Bangkaru. The waves can reach up to 6 meters, especially at times between April and August. Bangkaru is the best place for surfing while Palambak Besar is perfect for kayaking, actually. Still, make sure to carry enough cash to get the services you need there.
The fact is that it is a little bit difficult to withdraw money in Banyak Islands, as ATMs are quite limited. Therefore, it is recommended to bring cash and prepare supplies like snacks and bottled water beforehand. Do not forget to carry a camera, as there is the chance to meet rare Green Turtles in Banyak Islands. Another important precaution is that tourists should not litter or spoil the nature. It is compulsory to take care of the environment regardless who you are.
Nearby Attractions
Rago-rago Island
Tailaini Island
Sikandang Island
Matahari Island
Bangkaru Island
Tuangku Island
Pelambak Island
Ujung Batu Island
How to Get There
Banyak Islands resides in the south part of Aceh Province and it belongs to Aceh Singkil Regency. From Medan City, it takes about 8 hours to get to Aceh Singkil. Later, you can rent a boat in Jembatan Tinggi Port and head directly to Banyak Islands.
Where to Stay

Latest News
Tsunami Museum Located at Jalan Iskandar Muda, Banda Aceh, the museum is open every day (except Friday) at 10:00 to 12:00 and 15:00 to 17:00. The style of this building is quite unique, it has stage house style or Rumah Panggung, and it resembles a ship with a chimney, when we see from far. Inside the museum, you can find a narrow hallway with rumble noises waterwall on both sides as if to remind the enormity of the tsunami. Aceh Tsunami Museum displays an electronic simulation of the 2004 Indian…
---
---
---
---