Pantan Terong
---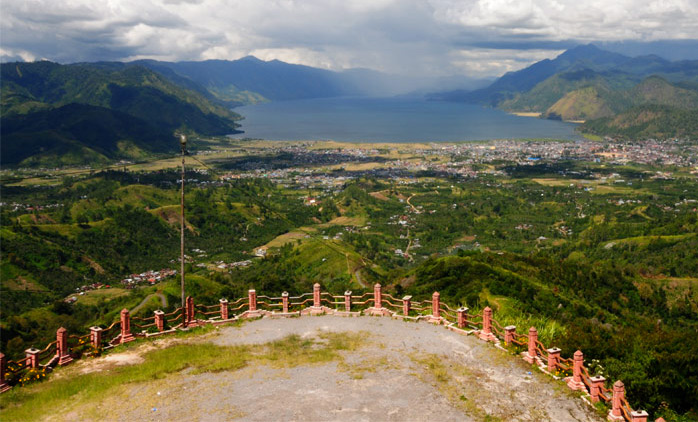 Pantan Terong is one of the natural attractions that worth visiting by tourists. The beaches and the entire city of Banda Aceh will be seen from a hilltop of Pantan Terong Takengon. PantanTerong is located in Central Aceh District, in a form of a hilltop in the Central Highlands.
Pantan Terong has good facilities where tourists enjoy the good sceneries from the heights. The entrance fee to enjoy the view from the top of Banda Aceh city is quite affordable, here we can also see the beautiful sunset and sunrise from the top of the hill.
Travelers can also perform challenging activities, such as paragliding; you can see the whole scenes by hovering over the sea freshwater lake, and also the mountains and hills that surrounding the town of Central Aceh by using the paragliding to challenge the adrenaline.
The regional District of Central Aceh, with the capital of Takengon has an area of about 4318.39 km that has been divided into 14 districts. This district also borders Bener Meriah district and also Bireun in northern, Gayo Lues district in the south, West Aceh, Pidie and Nagan Raya district in the west and East Aceh District in the east. The Pantan Terong highland is precisely located at Bebesan district, 7.5 km from the town of Takengon, Central Aceh district.
To reach Pantan Terong is easy. You do not need to worry because the road leading to this place is well-maintained. Unfortunately, tourists can only reach the top of the hill by using their own vehicle, either a car or a motorcycle because there is no public tranportation available.

Latest News
Tsunami Museum Located at Jalan Iskandar Muda, Banda Aceh, the museum is open every day (except Friday) at 10:00 to 12:00 and 15:00 to 17:00. The style of this building is quite unique, it has stage house style or Rumah Panggung, and it resembles a ship with a chimney, when we see from far. Inside the museum, you can find a narrow hallway with rumble noises waterwall on both sides as if to remind the enormity of the tsunami. Aceh Tsunami Museum displays an electronic simulation of the 2004 Indian…
---
---
---
---