Lhoknga Beach
---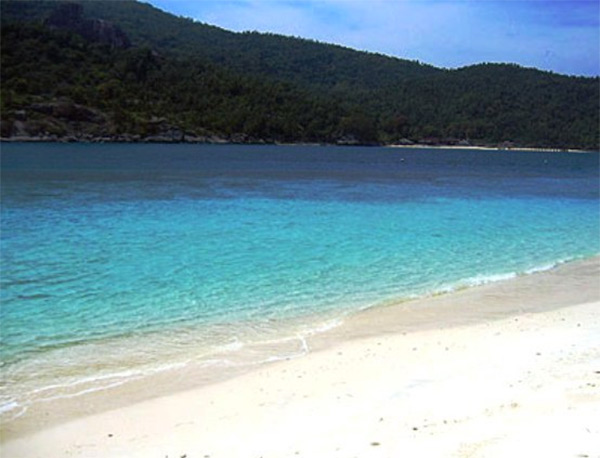 Near to Lampuuk, there is Lhoknga beach. This tourism site is about 20 km from Banda Aceh. Here, you can relax under the shady trees or playing beach volleyball in the white sandy beach and sloping. If relaxing and sunbathing is not enough for you, you can try surfing in the sea. Lhoknga beach has waves with 1.5 to 2 meters high that suitable for those who love adrenaline rush.
Lhoknga beach has a beautiful white sand with a few rocks, blue sparkling sea water, a lined up coconut trees and cypress trees that made the atmosphere cool. For surfers, there are five-point for surfing in Lhoknga beach. Five points that include: Left Hander Point, Cemara Right Point, Peak Point, Suri Point and Out Side Right Hander  Suri Point is taken from the name of a local surfer who died in the tsunami 2004.
At dawn, do not miss the beautiful sunsets on this beach. This placemis increasingly crowded in the afternoon, where many come to see the sunset, while sit back and relax and enjoy roasted corn. Lhoknga beach is also popular for Golf Course, Surfing and fishing activity. Especially for surfing, the big and fierce wave in Lhoknga had been known among the international surfing community.
For those newlywed couple and want to have a place for honeymoon, Lhoknga beach can be an alternative for a romantic place. Being on this beach while accompanied by the sea breeze in the afternoon and the dim light sky will make the romantic atmosphere appears.

Latest News
Tsunami Museum Located at Jalan Iskandar Muda, Banda Aceh, the museum is open every day (except Friday) at 10:00 to 12:00 and 15:00 to 17:00. The style of this building is quite unique, it has stage house style or Rumah Panggung, and it resembles a ship with a chimney, when we see from far. Inside the museum, you can find a narrow hallway with rumble noises waterwall on both sides as if to remind the enormity of the tsunami. Aceh Tsunami Museum displays an electronic simulation of the 2004 Indian…
---
---
---
---