Tujuh Bidadari Waterfall in North Aceh Regency - Indonesia
---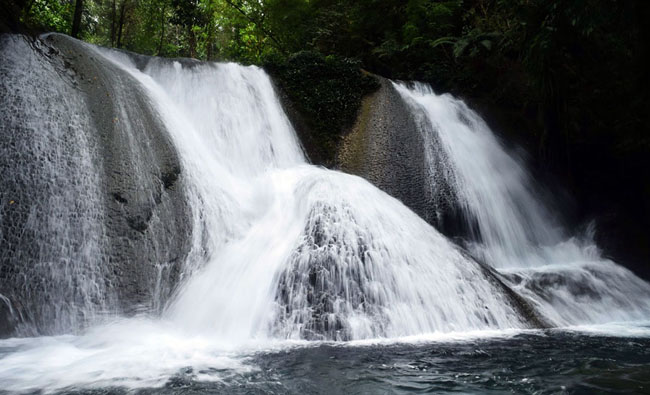 A beautiful nature offers both serenity and amusement to tourists. For those coming to Aceh Province, a beautiful tourist spot is waiting and the name is Tujuh Bidadari Waterfall. The location is in Geureudong Pase Sub-District and it belongs to North Aceh Regency. The distance is about 51 km from Lhokseumawe City and it offers a wonderful landscape tourists can enjoy during the holiday. Tujuh means "seven" and Bidadari means "angles". Actually, the waterfall consists of 7 levels and each of them has the distinct features and height.
The Nuance
Once tourists arrive at the site, they might see a wonderful nature featuring fresh air, peaceful atmosphere, soothing sound of the waterfall, and crystal clear water. The falls get the water from both Suak and Pase River and it may lure people to get in it and enjoy bathing. Some river stones are also seen on the site, on which tourists can use for relaxing and sitting. Also, the nuance is too quiet as the waterfall is located in the middle of a forest. No wonder, it helps everyone to relieve stresses when spending a good time there.
Exploring Tujuh Bidadari Waterfall
What can tourists do in Tujuh Bidadari Waterfall? The most popular activity is relaxation. As mentioned before, the site is surrounded by lush nature including dense trees and soothing atmosphere. Spending several minutes on the site helps everyone to get rid of stresses right away, for sure. Thanks to the secluded location. Not many people are seen there so it becomes a good place to escape from a hectic and stressful life. To enjoy it, tourists can either come alone or with close friends and families.
The next fun activity is to get in the pond and enjoy its soothing water. The best time to take a bath or play water is definitely in the morning (when the water feels the freshest). One thing, tourists must watch their steps as some stones are slippery. Another important tip is that they must carry extra clothes. For parents with kids, they must watch the children well during bathing. Make sure the kids do not go to the deep water accidentally.
Here is another idea. Tourists can enjoy a unique activity called motor trailing. It is because a route to the site features challenging landscapes, which is good to do the activity. The thing is tourists should spend more money to rent the bike. As an alternative, they can bring one and ride them right away in the course. Later, they can visit the famous Komando Barrack that resides near to waterfall, too.
Nearby Attractions
Alue Ujeun Waterfall
Alue Angkup Waterfall
Salak Mountain
How to Get There
From Banda Aceh City, it may take about 3 hours to reach Tujuh Bidadari Waterfall. For those coming from Lhokseumawe City, though, they only need to spend about 1 hour. After arriving at Geureudong Pase, they can directly head to the site by either renting a motorcycle or hiring a tour guide service.
Where to Stay
Parasaning Hotel
Shankar Hotel
Fenix Beach Resort 


Latest News
Tsunami Museum Located at Jalan Iskandar Muda, Banda Aceh, the museum is open every day (except Friday) at 10:00 to 12:00 and 15:00 to 17:00. The style of this building is quite unique, it has stage house style or Rumah Panggung, and it resembles a ship with a chimney, when we see from far. Inside the museum, you can find a narrow hallway with rumble noises waterwall on both sides as if to remind the enormity of the tsunami. Aceh Tsunami Museum displays an electronic simulation of the 2004 Indian…
---
---
---
---