Laut Tawar Lake
---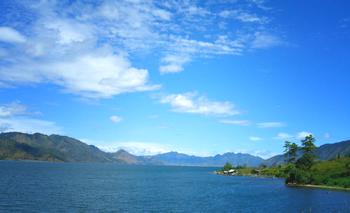 Danau Laut Tawar or Fresh Sea Lake is a lake that located in the Gayo Highlands, Central Aceh District, Aceh. At western side of the lake there is Takengon, which is also the capital of Central Aceh district. The extent of the lake is approximately 5,472 hectares, with a length of 17 km and a width of 3.219 km. The volume of water is approximately 2,537,483,884 m³ (2.5 billion liters).
The name Laut Tawar or Fresh Sea taken because of the vast area that this lake has, and it has fresh water in it.  The existence of Laut Tawar Lake for local inhabitants is used for the water resourcement for the entire needs, with other is about tourism destination.
The panorama around the lake that flanked by two hills presents the beauty of its own for those who visit this place. This lake is also has a fish species that only exists here, that is fish Depik or Rasbora Tawarensis. It has shaped like a fish with slender body as big as human thumb, and it sparkling white flaky and it taste savory.
Based on the folk legend, danau Laut Tawar occur from the story of a princess who married a man from another kingdom, which is not blessed by her parents. When she left the palace, she turn her face backward and it made thunder, lightning and heavy rain that made the princess fell down and cried. The rain and the crying of the princess then believed to be the source of the lake.

Latest News
Tsunami Museum Located at Jalan Iskandar Muda, Banda Aceh, the museum is open every day (except Friday) at 10:00 to 12:00 and 15:00 to 17:00. The style of this building is quite unique, it has stage house style or Rumah Panggung, and it resembles a ship with a chimney, when we see from far. Inside the museum, you can find a narrow hallway with rumble noises waterwall on both sides as if to remind the enormity of the tsunami. Aceh Tsunami Museum displays an electronic simulation of the 2004 Indian…
---
---
---
---