Lampuuk Beach in Lhoknga Sub-District, Aceh Province - Indonesia
---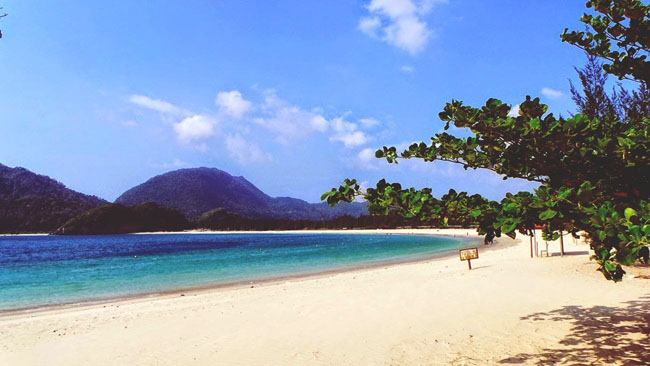 For those who are looking for a new reference for a beach vacation, Lampuuk Beach is a good option. Some locals call it Lhoknga Beach due to the location, which is in Lhoknga Sub-District, Indonesia. The beach resides near to a local golf course and Andalas Cement Factory, so it is quite noticeable for visitors. Even though tsunami destroyed such tourist spot back then, the government had done a good repair. That means tourists can enjoy it just like before and most of them are families with kids. They come to the beach to enjoy many activities like banana boat riding and surfing!
The Nuance
In terms of nuance, Lampuuk Beach is both beautiful and peaceful. Even though the site is famous for surfing and water sports, lots of people recognize it due to the presence of a nearby golf course! The big waves of the sea make it popular among surfers and photographers. The next feature is the presence of coconut trees on the shoreline. They bring a comfy nuance to the beach and become a good spot for relaxing at noon. What is more? Some foreigners are seen on the beach (those who come for surfing).
Exploring Lampuuk Beach
It is, without a doubt, the best activity to do in Lampuuk Beach is surfing. Due to a big number of visitors who come every day, the locals decide to provide a service so that tourists can rent a surf board during the visit. Both calm and rough waves are available, so tourists can choose one based on their skills. As for the tip, it is better to surf between June and November. Why is that? The west wind season occurs at those times and provides amazing waves called "beach break". As an alternative, tourists can come between December and May when there is the east wind season. In this case, they would get the "reef break".
Apart from surfing, Lampuuk Beach is famous for its beautiful white sand. Tourists can simply relax on the beach while watching the sea scenery. Due to such serenity, lots of people take their time to enjoy fishing and photography, too. It is true not many big fishes are seen there, but the atmosphere is good to spend hours for fishing! At least, people can relieve their stresses when visiting the beach.
The next fun activity is definitely eating grilled fishes with families on the beach. Have no worries. Some locals sell those mouth-watering sea foods and the price is affordable as well. After enjoying the foods, they can spend some money to ride a banana boat and explore the shoreline freely! The thing is the rent fee becomes more expensive during holidays, so you need to prepare the money beforehand.
Nearby Attractions
Fresh Sea Water Lake
Takengon Hill
Gunongan Historical Park
How to Get There
From Banda Aceh City, travelers need to spend about 40 minutes to get to Lhoknga Sub-District. The distance between them is 16.5 km, after all. It can be faster if they use a nice vehicle and take Banda Aceh – Calang Street.
Where to Stay
Diana Hotel
Siwah Hotel
Dian Rana Bungalow


Latest News
Tsunami Museum Located at Jalan Iskandar Muda, Banda Aceh, the museum is open every day (except Friday) at 10:00 to 12:00 and 15:00 to 17:00. The style of this building is quite unique, it has stage house style or Rumah Panggung, and it resembles a ship with a chimney, when we see from far. Inside the museum, you can find a narrow hallway with rumble noises waterwall on both sides as if to remind the enormity of the tsunami. Aceh Tsunami Museum displays an electronic simulation of the 2004 Indian…
---
---
---
---