Ancient Pinto Khop in Banda Aceh City, Aceh Province - Indonesia
---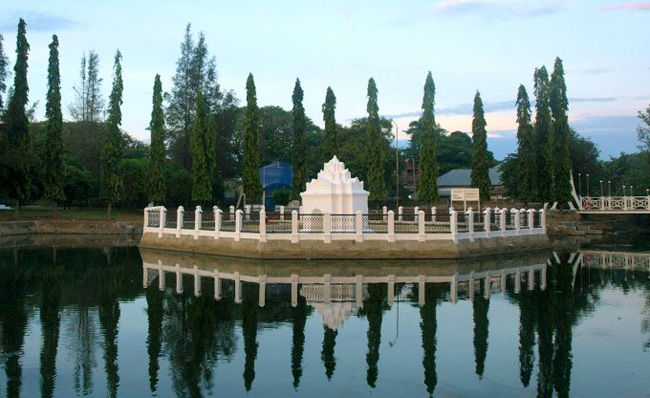 Many tourists come to Aceh Province Indonesia to visit some historical places and learn a bit history of those sites. In this case, Pinto Khop should be on their list. Such historical structure is the reminiscence of an ancient culture, which was built during the reign of King Iskandar Muda 16th. The location is behind Governor's Pendopo, which is in Sukaramai Village. In terms of region, it belongs to Baiturrahman Sub-District, Banda Aceh City. The structure connects Pitroe Phang Garden and the palace, actually. Not to mention it resides near to Gunongan. Today, Pinto Khop is popular among tourists as it becomes a perfect object of photography and gives them an opportunity to learn local history.
The Nuance
Once tourists arrive at the site, they might see a small structure having white color and a unique shape. In features a small tunnel and some majestic engagements on both the walls and roof. Next, it is surrounded by fences and trees, protecting it from illegal visitors. No wonder, it is because the government considers it a valuable and historical site. The structure was built by King Iskandar Muda as a gift to her daughter named Pang. It is also said that he built Pinto Khop for the Empress.
Exploring Pinto Khop
The most common thing to do when exploring Pinto Khop is sightseeing. That means tourists would witness the details of the structure passionately. In terms of shape, it is similar to a dome. The locals say it was used by Princess Pang for resting after spending some time swimming in the nearby pool. It is also said some ladies visit the site and performed hair treatments to the princess. For further information regarding the function of the structure, tourists can take advantage of .
In the same area, tourists can find a small library where the king and empress spent a family time reading books after swimming. Tourists are allowed to enter the site and explore it thoroughly, in fact. However, everyone should never cause havoc when exploring the location. Not to mention littering is definitely prohibited. Thus, make sure to take care of the trash if you come to the site carrying snacks or bottled drinks.
Another thing to do in Pinto Khop is indeed photography! It is recommended to carry a camera and take some pictures of the structure and its surroundings. The other objects like the pool and lush trees are worth to capture, as well. Have no worries. Visitors do not need to pay the fee to explore the site and take pictures there. That doesn't mean they are allowed to spoil the environment during the activity!
Nearby Attractions
Gunongan Historical Park
Blang Padang
Baiturrahman Grand Mosque
Indra Patra Fort
How to Get There
The best thing is that Pinto Khop is located near to Banda Aceh City, Indonesia. From the capital of Aceh Province, tourists can directly head to Baiturrahman Sub-District. It takes only 20 minutes and the distance is only 850 meters. The exact location is in Sukaramai Village and visitors can use Aladin Mansyursyah Street to reach the sit
Where to Stay
Hermes Palace Hotel
Pavilion Seulawah Hotel
Lading Hotel
61 Hotel


Latest News
Tsunami Museum Located at Jalan Iskandar Muda, Banda Aceh, the museum is open every day (except Friday) at 10:00 to 12:00 and 15:00 to 17:00. The style of this building is quite unique, it has stage house style or Rumah Panggung, and it resembles a ship with a chimney, when we see from far. Inside the museum, you can find a narrow hallway with rumble noises waterwall on both sides as if to remind the enormity of the tsunami. Aceh Tsunami Museum displays an electronic simulation of the 2004 Indian…
---
---
---
---