Tujuh Cave in Muara Tiga Sub-District, Banda Aceh City - Indonesia
---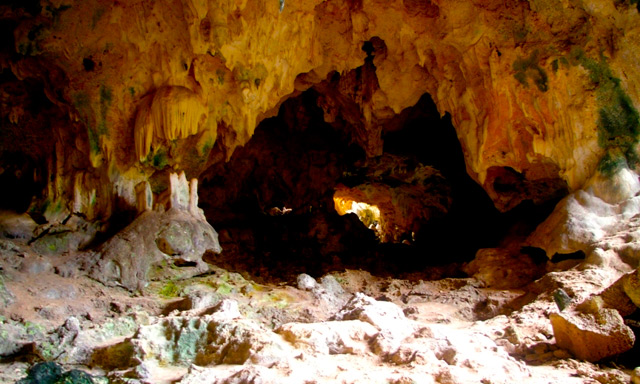 For those looking for new places to visit in Aceh Province, there is Tujuh Cave! The location is in Laweung Village and it belongs to Muara Tiga Sub-District. To be exact, it resides in Banda Aceh – Medan Street (100th km). Tujuh means seven in local language, actually. As the name suggests, tourists can find 7 entrances to explore such historical cave. Each of the mouths of the cave even features different landscape for tourists to explore, in fact. This explains why most tourists come to the site to conduct an exploration or adventure.
The Nuance
After getting to the cave, tourists might see a wonderful nature. The site is surrounded by mountains but not forest. No wonder, many rocks and small stones scatter there. This is why visitors should be careful when exploring the site as the landscape is considered challenging. The next feature of the cave is the border, which resides near to Laweung Village. In the south part, a beautiful view of the nature like the South Sea can be seen clearly from the location. With all the features, the cave also becomes a good destination to conduct photography and sightseeing.
Exploring Tujuh Cave
It is true the best charm of Tujuh Cave is the scenery and site's condition. However, tourists are also interested in its mysteries. One of them is the presence of a giant stone located deep inside the cave. Here is the unique thing. The stone floats without any foundation! No one knows how it may possibly happen (as it against the law of physics). This phenomenon becomes one of the reasons why visitors keep coming to the location, though.
The next charm of the cave is related to the local rumor. It is said one of the entrances of the cave leads directly to Mecca! Despite such unbelievable rumor, no one has confirmed the exact length or depth of the whole entrances of the cave. The main entrance has the diameter of 0.6 meters and the width of approximately 15 meters, though. The best thing is that everyone can enter the cave without any entrance fee. It is free, so everyone is allowed to explore the site regardless of where they come from.
The original name of the cave is Aulia Tujuh and it is said such sacred cave became the base of seven sacred people who spent years of meditating for more powers. This fact lures both the locals and outsiders to come to the cave for meditating as well. They look for blessings, prosperity, luck, or even a soul mate. Even though not all people believe in such kind of thing, meditating is another reason why Tujuh Cave is popular among tourists.
Nearby Attractions
Tupeng Gapu Beach
Rajul Reservoir
Pocut Meurah Intan Park
How to Get There
It takes some time to reach the cave. From Banda Aceh City, travelers can use any type of transportation and head to Muara Tiga Sub-District right away. The distance is about 86.8 km, so the trip may take approximately 2 hours. As for the route, the best one to use is Banda Aceh Street or Lintas Sumatra Street. 

Where to Stay
Pidie Hotel
Grand Blang Asian Hotel
Cempaka Hotel
Safira Hotel

Latest News
Tsunami Museum Located at Jalan Iskandar Muda, Banda Aceh, the museum is open every day (except Friday) at 10:00 to 12:00 and 15:00 to 17:00. The style of this building is quite unique, it has stage house style or Rumah Panggung, and it resembles a ship with a chimney, when we see from far. Inside the museum, you can find a narrow hallway with rumble noises waterwall on both sides as if to remind the enormity of the tsunami. Aceh Tsunami Museum displays an electronic simulation of the 2004 Indian…
---
---
---
---