Grand Canyon Teunom in Aceh Besar Regency, Aceh Province - Indonesia
---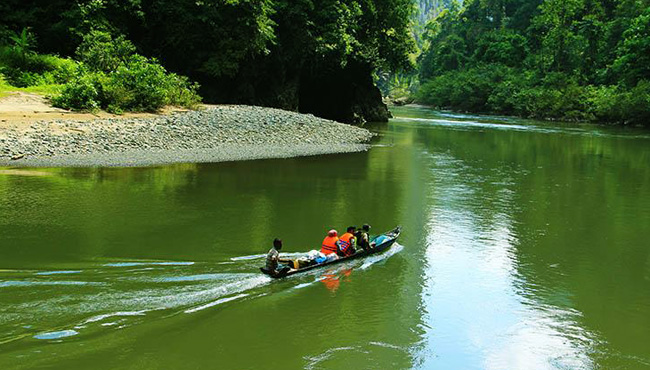 An idea to visit Aceh Province during holidays is always interesting. What people need to do is to find the best references of tourist attractions to visit later. For those who are into natural tourism, they must consider visiting Grand Canyon Teunom in Aceh Besar Regency, Indonesia. Some people call it Krueng Teunom and it becomes a place to explore the lush of nature including a wide variety of flora and fauna. Tourists also recognize it as the longest rafting route in Indonesia and as one of the best tourist spots in Aceh.
The Nuance
Why do people call it a grand canyon? Perhaps they are impressed with the nuance, which is similar to that of the USA's Grand Canyon. However, the main feature of the site is definitely the Teunom River which becomes a great place to conduct fun activity like rafting. As mentioned before, it is the longest rafting route of the country having the length of about 57 km. The starting point for rafting is located in Cut Kuala Village that belongs to Pidie Regency and the ending point resides in Sarah Raya that resides in Aceh Raya Regency.
Exploring Grand Canyon Teunom
Some rivers boil down to Teiunom River including Beutung, Sekuleh, and Geumpang. Despite the fact, Teunom remains the most popular choice when it comes to rafting.  Instead of using a raft, tourists would ride either a local boat or speedboat in order to explore the river. During the adventure, they can see majestic karts that surround the river (no wonder people call the site Grand Canyon Teunom). Not to mention some wild animals are seen there including birds, insects, etc. Such amazing nuance indeed might amaze everyone who conducts the activity.
As for the locals, Krueng Teunom has become a significant source of income. It is because they rely on the river to catch fishes. Moreover, they take advantage of it as the natural source of water and irrigation. These days, the site has another important function, which is a place to spend a holiday especially to do rafting. With those attractions, tourists are likely to get an unforgettable experience after spending some time there. It is even possible to take pictures during rafting!
For first-timers, it is better to make a preparation before exploring Grand Canyon Teunom. First, they must visit the starting point, which is in Cut Kuala Village. It is also recommended to conduct rafting in a group and with a guidance of the expert. Carrying a camera and some snacks are allowed during the activity. However, no one is allowed to throw trashes in the river or littering. Another consideration is related to the best time to visit the site, which is in the morning (featuring more refreshing atmosphere and peaceful nuance).
Nearby Attractions
•   Indra Patra Fort
•   Gunongan Historical Park
How to Get There
From Banda Aceh City, a trip to Aceh Besar Regency may take about 50 minutes as the distance is 30.6 km. The best route to take is Lintas Sumatra Street and tourists can take any type of vehicles to reach the location.
Where to Stay
Siwah Hotel
Hermes Palace Hotel
Mekkah Hotel
Kumala Hotel

Latest News
Tsunami Museum Located at Jalan Iskandar Muda, Banda Aceh, the museum is open every day (except Friday) at 10:00 to 12:00 and 15:00 to 17:00. The style of this building is quite unique, it has stage house style or Rumah Panggung, and it resembles a ship with a chimney, when we see from far. Inside the museum, you can find a narrow hallway with rumble noises waterwall on both sides as if to remind the enormity of the tsunami. Aceh Tsunami Museum displays an electronic simulation of the 2004 Indian…
---
---
---
---