Rubiah Sea Garden in Weh Island, Aceh Province - Indonesia
---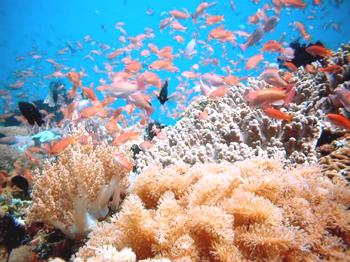 Apart from Banda Aceh City, tourists can find other interesting places to explore during a vacation to North Sumatra. For example, there is Rubiah Sea Garden and it is located in Sabang Regency. To be exact, such amazing tourist spot belongs to Rubiah Island. The name was inspired by a famous person called Cut Nyak Rubiah who was buried on that island. She died during the ship accident when heading to Mecca for pilgrimage. Apart from the story, the island is famous for its underwater scenery! No wonder, lots of people come to Rubiah to explore the sea garden and witness its beauty.
The Nuance
Rubiah Sea Garden is one of the charms provided by the island and it features the beautiful landscape of the sea and numerous types of nautical creatures including corals, tropical fishes, giant clams and much more. No wonder, tourists are likely to spend hours for either swimming or snorkeling in the sea. They are interested to watch both soft and hard corals underwater. Not to mention they have the chance to explore the beaches, which feature a peaceful nuance and comfortable wind.
Exploring Rubiah Sea Garden
Many types of activities can be done in Rubiah Sea Garden including swimming, snorkeling, and beach walking. For those who love swimming, they must take advantage of the warm water and clear visibility of the sea. That means tourists can see the fishes and corals clearly while snorkeling. What they need to do is to use the right equipment and find the right spots to do such activity. For the best experience, it is better to come between January and February, as most of the fishes appear at those times. Approximately, there are 15 species of fishes in the sea garden and most of them are protected.
The best thing is that tourists do not need to carry snorkeling gears or other equipment when visiting Rubiah Sea Garden. The reason is that they can rent them on the site. Apart from snorkeling and diving, they have the chance to visit a coral transplantation site and learn about how to cultivate those corals. Have no worries. Some local guides will show the location to them. Thus, it is better to use their service when visiting the sea garden. The expense is quite worth it, for sure.
In order to reach the sea garden, tourists should use a boat from Rubiah Island. As an alternative, they can simply spend good times on the beach. Under the shady trees, they can enjoy the sea scenery and feel the comfy wind at noon. Do not forget to explore nearby tombs, especially the one that belongs to Cut Nyak Rubiah!
Nearby Attractions
Teupin Layeu Beach
Iboih Beach
Cut Nyak Rubiah
How to Get There
Rubiah Island is located near to Iboih Island. For those coming from Banda Aceh, they can simply head to Ulee Lheue Port and take a boat to reach Weh Island. Another boat is needed later in order to reach Rubiah. Once arriving at the island, it is time to visit the sea garden with the help of a local guide.
Where to Stay
Iboih Inn
Treetop Inn
Fina Bungalow


Latest News
Tsunami Museum Located at Jalan Iskandar Muda, Banda Aceh, the museum is open every day (except Friday) at 10:00 to 12:00 and 15:00 to 17:00. The style of this building is quite unique, it has stage house style or Rumah Panggung, and it resembles a ship with a chimney, when we see from far. Inside the museum, you can find a narrow hallway with rumble noises waterwall on both sides as if to remind the enormity of the tsunami. Aceh Tsunami Museum displays an electronic simulation of the 2004 Indian…
---
---
---
---