Bur Bulet Waterfall in Wih Ilang Village, Aceh Province - Indonesia
---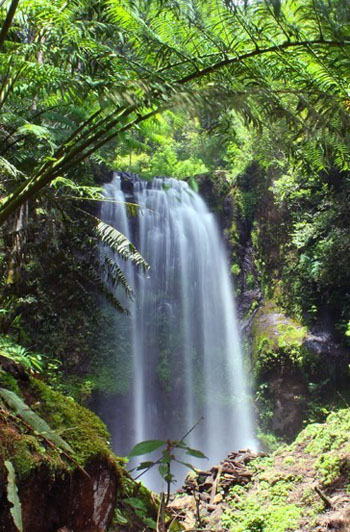 A vacation to Aceh Province is not only about history and culture as tourists can find various natural tourist spots including waterfalls. As for the reference, there is Bur Bulet Waterfall located in Central Aceh Regency. To be exact, this serene waterfall resides in Wih Illang Village and belongs to Pegasing Sub-District. In terms of name, the meaning is "the round hill" (Bukit Bulat). According to the locals, the site features a round landscape of the hill so they named it that way using Gayo Language. Today, the site becomes a nice reference for relaxation and enjoying a peaceful nuance both among the locals and tourists.
The Nuance
Once tourists arrive at Bur Bulet Waterfall, they might feel a soothing atmosphere due to the presence of trees and bushes. When they get near to the falls, many rocks are scattered on the location and the water splashes on them rapidly. The height of the waterfall is about 25 meters and it looks majestic either from near or far. For lucky tourists, they can even witness stunning rainbow there. The next important feature is the landscape condition of the falls, which is fine. That means visitors can easily reach the site without hassles.
Exploring Bur Bulet Waterfall
Here is the fact. The waterfall resides in a hilly area with its mountainous atmosphere. No wonder, the air feels refreshing and the nuance is quite peaceful. This explains why most tourists want to come to the site to relax and get rid stresses. Some of them also visit the waterfall to explore the nature. Thanks to the good landscape. It is easy to conduct trekking or exploration there. Still, it is recommended to wear comfy footwear to ensure the safety during trekking.
Due to its pristine nature, Bur Bulet Waterfall is famous for an object of photography, as well. not only tourists can take pictures of such majestic falls, they can aim for the trees and other natural features there. The thing is the site does not feature stairs yet, so you must be patient and careful in exploring a better spot for photography. It takes some time, but you won't regret it as the views are better in those spots.
Another fun activity to do in Bur Bulet Waterfall is playing water. Like other falls, it features a natural pond where tourists can get and take a bath in it. In this case, you must have prepared extra clothes before coming to the site as getting wet is inevitable. Overall, it is ok to come alone as long as you know the route and have prepared some items like bottled water, clothes, snacks, hiking shoes, etc.
Nearby Attractions
Takengon Horse Race
Lancuk Leweng
Bur Telege
Loyang Koro Cave
How to Get There
From Banda Aceh City, it takes about 8 hours to reach the location as the distance is 342 km. Once you arrive at Takengon City, it takes about 22 minutes to Pegasing Sub-District. What you need to do next is to head to Wih Illang Village where the waterfall resides. Here is the thing. From Banda Aceh, make sure to take Bireuen – Takengon Street for a faster trip
Where to Stay
Bunda Hotel
Linge Land Hotel
Danau Laut Tawar Hotel
Renggali Hotel  


Latest News
Tsunami Museum Located at Jalan Iskandar Muda, Banda Aceh, the museum is open every day (except Friday) at 10:00 to 12:00 and 15:00 to 17:00. The style of this building is quite unique, it has stage house style or Rumah Panggung, and it resembles a ship with a chimney, when we see from far. Inside the museum, you can find a narrow hallway with rumble noises waterwall on both sides as if to remind the enormity of the tsunami. Aceh Tsunami Museum displays an electronic simulation of the 2004 Indian…
---
---
---
---