Baiturrahman Grand Mosque
---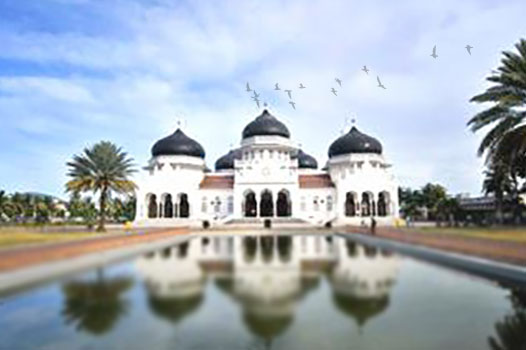 Located at the heart of Banda Aceh, Nanggroe Aceh Darusallam, this grand mosque becomes one of Aceh's signatures that symbolize the religion, culture, spirit and struggle. The majestic of this mosque is can be seen when the Tsunami in 2004 happened in Aceh, but this mosque can hold the storm and stand still.
Speaking of the tragedy that happened during the Tsunami in Aceh, Baiturrahman grand mosque was become the sanctuary for hundreds people who need shelter from the Tsunami that flattened the entire city. This mosque was saved from quake and tsunami but it suffered some minor damage, while the 35-meter minaret by the main gate is now slightly tilted and cracked.
Having bright white wall for the exterior and glorious black dome, marked by a 35 meter high tower, a large 7 domes and 7 minarets, this 130 years old grand mosque is typical of an antique and beautiful building that ever build in Indonesia. History recall that this mosque was first built from wood during 1621, under the reign of Sultan Iskandar Muda. Other said that this mosque was built even earlier in 1292 by Sultan Alaidin Mahmudsyah.
The mosque was designed by an Italian architect in a North Indian Moghul style, and it characterized by grand domes and minarets. The Baiturrahman is similar to the prototype for many mosques in Indonesia and Malaysia, which was first introduced by the Dutch and British colonialists. However, Moghul Revival architecture is now embraced by the Muslim faithful, and has widely displaced the tiered-roof mosque in vernacular shape. At early begin, any Acehnese initially refused to pray at Baiturrahman, because it was built by Dutch infidels with ambitions to conquer Aceh, but today it is the pride of Banda Aceh.
During the Aceh war in 1873, the mosque was destroyed. Realizing the value and the importance to the people in Aceh, in 1879, Major General Vander who served as a military general at the time, gave an order to rebuild the mosque as promised by Governor General Van Lansberge in 1877. There was two domes were added by the Dutch in 1936 and two other vaults added by the Indonesian government in 1957.

Latest News
Tsunami Museum Located at Jalan Iskandar Muda, Banda Aceh, the museum is open every day (except Friday) at 10:00 to 12:00 and 15:00 to 17:00. The style of this building is quite unique, it has stage house style or Rumah Panggung, and it resembles a ship with a chimney, when we see from far. Inside the museum, you can find a narrow hallway with rumble noises waterwall on both sides as if to remind the enormity of the tsunami. Aceh Tsunami Museum displays an electronic simulation of the 2004 Indian…
---
---
---
---