Pucok Kreung Natural Bath in Aceh Besar Regency, Aceh Province - Indonesia
---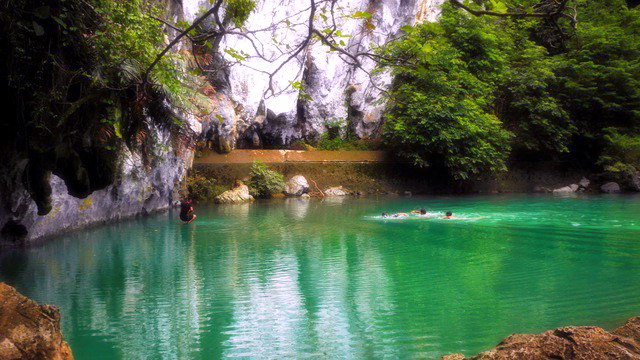 Visiting Aceh Province during holidays is indeed a wonderful idea. Why is that? The reason is none other than the fact that tourists can find wonderful places to visit. One of them is called Pucok Kreung Natural Bath that belongs to Aceh Besar Province, Indonesia. The locals even consider it as a hidden paradise of Aceh and choose it as a recommended site for relaxing and spending good times with families or friends. Despite the secluded location, no one ever got disappointed after spending some time on the site. On the other hand, they can build a good memory during the visit.
The Nuance
In terms of nuance, people might expect a peaceful atmosphere. The natural bath is surrounded by lush nature and it features dense trees. What about the pond? It features crystal clear green water and refreshing temperature. The water looks so calm even though it is a little bit deep. Another important feature of the site is the majestic karst that protects the pond from the heat of the sun. Here is another fact. The site doesn't have many visitors so tourists can take a bath or simply relaxing without the disturbance of the crowd.
Exploring Pucok Kreung Natural Bath
The first charm of Pucok Kreung Natural Bath is actually the adventure. Why is that? In order to reach the location, tourists need to pass through a challenging landscape. From Lhoknga, tourists should undergo a small trekking in order to get to the natural bath. It is indeed tiring but the trekking gives a satisfaction to adventurers. Not to mention they are able to witness the lush of the nature including thick trees, mountains, karsts, and animals. It also gives them a chance to perform photography before taking a bath in Pucuk Kreung.
Apart from trekking, the prime activity to do is definitely taking bath or playing water. Thanks to the refreshing water. It feels rejuvenating that tourists are able to eradicate their stresses right away once they get in the water. Such Tosca-colored water is quite tempting, after all. That means no one is able to reject the temptation of taking a bath in such comfy and majestic natural pond. Swimming also becomes a good activity to do there, for sure.
Before visiting Pucok Kreung, tourists should pay attention to several things. As mentioned before, it takes an effort to reach the site. In order to avoid problems, it is better to wear comfortable and durable footwear. Not to mention they need to carry bottled water as the trip can be quite tiring, especially at noon. Another preparation is that they need to carry extra clothes. It is because they are going to get wet by playing in the water.
Nearby Attractions
•   Lhoknga River
•   Tuan Tapa Tomb
•   White Sandy Beach 
•   Pala Indah Park
How to Get There
The fact is that Pucok Kreung Natural Bath belongs to Aceh Besar Regency, Indonesia. In order to reach the site, tourists need to spend about 8 hours and 30 minutes as the location is quite far. When it comes to the best route, they can take Jendral Sudirman Street.
Where to Stay
Dian Rana Hotel
Panorama Hotel
Azizi Hotel
Catherine Hotel

Latest News
Tsunami Museum Located at Jalan Iskandar Muda, Banda Aceh, the museum is open every day (except Friday) at 10:00 to 12:00 and 15:00 to 17:00. The style of this building is quite unique, it has stage house style or Rumah Panggung, and it resembles a ship with a chimney, when we see from far. Inside the museum, you can find a narrow hallway with rumble noises waterwall on both sides as if to remind the enormity of the tsunami. Aceh Tsunami Museum displays an electronic simulation of the 2004 Indian…
---
---
---
---