Tailana Island in Aceh Singkil Regency, Aceh Province - Indonesia
---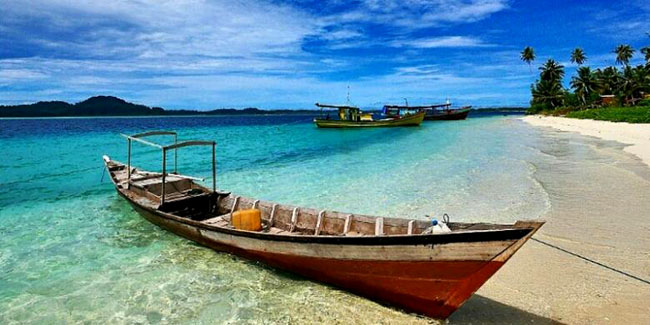 Banyak Islands belong to Aceh Province and it has become a new reference of tourist destination in Sumatra Island and Indonesia. As the name suggests, it consists of many beautiful islands (about 70 islands) and all of them are worth to explore! Still, the most famous one is called Tailana Island. Tourists recognize it as the best site to enjoy serene nuance, snorkeling, water sports, and relaxation!  Most people would feel the same regarding the atmosphere. It feels like a paradise when spending a vacation on the island due to the unspoiled nature and beautiful natural attractions. No wonder, many tour agencies recommend it to everyone, especially those who are visiting Aceh Province.
The Nuance
The nuance feels so peaceful, as the island has no inhabitants at all. What tourists can find is only dense coconut trees, bushes, white sand beach, and crystal clear blue water. When it comes to the sea, the waves are calm and several corals are seen on the shoreline. Thanks to the pristine water. Even fishes can be seen clearly there. Another impressive feature is the breezy wind of the sea, which is both warm and soothing.
Exploring Tailana Island
The most popular activity to do in Tailana Island is snorkeling. The reason is that visitors cannot avoid the lure of the beach and amazing sea, so they want to explore the underwater scenery right away. Fortunately, some small resorts are available from where tourists can rent snorkeling gear or other requirements to enjoy the activity. Apart from snorkeling, swimming is also recommended as the waves are small and safe. Don't you like water sports? As an alternative, you can simply relax under coconut trees and witness sea scenery from there.
Even though the waves are considered small, Tailana Island is famous for surfing activity as well. It is because you can find two great spots to enjoy surfing, featuring big waves which are s up to 6 meters of height! The location is near to Bangkaru Island, though. That means you should rent a boat to reach those spots. Another tip is that you should come between January and May when the weather is nice and the waves are more suitable for surfing.
In a nutshell, spending a vacation in Tailana Island feels like in a private island.  Visitors can do almost anything there as if no one is watching. As for the tip, make sure to come with extra cash as you need to rent a room in nearby resorts for a more comfortable experience. Not to mention you might use the money to buy some delicious seafood and local dishes. Hiring a tour guide is not necessary, though.
Nearby Attractions
Hijau Island
Belimbing Island
Sisik Island
Baguk Island
Balai Island
How to Get There
For those coming from Medan City, it takes about 8-10 hours to reach Aceh Singil Regency. Once tourists arrive at the local port, the next thing to do is to ride a ferry and head to Banyak Islands. It takes about 4 hours to reach the destination, so you must prepare the supplies before going.
Where to Stay
Putri Homestay
Nanda Inn
Muar Mata Inn
Tailana Inn

Latest News
Tsunami Museum Located at Jalan Iskandar Muda, Banda Aceh, the museum is open every day (except Friday) at 10:00 to 12:00 and 15:00 to 17:00. The style of this building is quite unique, it has stage house style or Rumah Panggung, and it resembles a ship with a chimney, when we see from far. Inside the museum, you can find a narrow hallway with rumble noises waterwall on both sides as if to remind the enormity of the tsunami. Aceh Tsunami Museum displays an electronic simulation of the 2004 Indian…
---
---
---
---