Indra Patra Fortress
---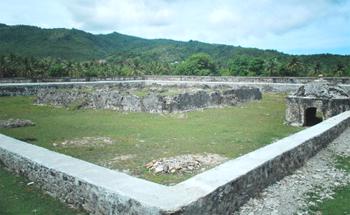 Indra Patra Fortress is one of Aceh tourism heritages that was built by the Royal Lamuri, the first Hindu kingdom in Aceh in the period before the arrival of Islam in Aceh, around seventh century AD.
During the reign of Sultan Iskandar Muda, the fort was built in a strategic position for dealing directly with the waterway, thus serving as a bastion of the Portuguese fleet attacks . At that time, with a powerful fleet of Sultan Iskandar Muda,  under the command of Admiral Malahayati, the first female admiral in the world, the fort was used to be a defense Aceh Darussalam kingdom.
The fort is has large and sturdy construction, with unique architecture  that made of limestone concrete. Nowadays, the only remaining of the building is the bastion number two; it was the door fort that destroyed by the tsunami.
At early begin of the building, there ware three major parts remaining fortress. The largest fortress measuring 70 x 70 meters with a height of 3 meters. There was also a large and sturdy room measuring 35 x 35 meters and 4 meters high. The design of the building looks so special and sophisticated; history said that the only way to reach the inside of the castle was climbing.
In the Main fortress there are two "stupas" or a building that takes after an arch where the inside or under the vault there are wells or water sources, which (at the time), utilized by Hindus for ablutions as a part of the religion service arrangement. Also, there is likewise a dugout inside the stronghold for putting away weapons and dugouts to spare slugs and firearms.
This ford is located in Ladong village, Aceh Besar. If you want to come to this place, you can take  public transportation in Aceh that called Labi-labi to Krueng Raya. However you can also use a private vehicle, is located only 20 minutes away or approximately 20 km from the city of Banda Aceh

Latest News
Tsunami Museum Located at Jalan Iskandar Muda, Banda Aceh, the museum is open every day (except Friday) at 10:00 to 12:00 and 15:00 to 17:00. The style of this building is quite unique, it has stage house style or Rumah Panggung, and it resembles a ship with a chimney, when we see from far. Inside the museum, you can find a narrow hallway with rumble noises waterwall on both sides as if to remind the enormity of the tsunami. Aceh Tsunami Museum displays an electronic simulation of the 2004 Indian…
---
---
---
---