Alas River
---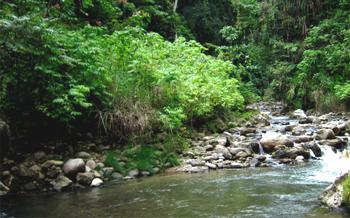 Alas River is located in Aceh Province, and this is the longest river in the province that passes through Gunung Lauser national park, continues to flow to the Indian Ocean. This river is located along the Southeast Aceh District, Gayo Lues District and South Aceh District.
The origin of the name was derived from the tribe of Alas, the indigenous tribe who inhabit the Southeast Aceh District, this river crosses the entire land in the Alas community. While local people named it as Lawe Alas river.
Situated at 165 km southeast Takengon, Alas River flows divides the Gunung Leuser National Park. This area is very popular among the young and adventurous. Has a sharp bend and the current challenging for the complainants guts. Those who are attracting to adrenalin rush, this river is suitable for rafting and many tourist come from all over the world.
To get to the Alas River is can be done by two routes. First route is from land route from Medan, North Sumatra, through Berastagi with a distance of 7 hours drive, but is somewhat the road is not good enough for track road, but still feasible for SUV vehicles. Secondly, is by overland through Banda Aceh, Beureun, Takengon, and it takes about 14 hours. The simplest option to the Alas River is using small bodied aircraft through Alas Leuser airport and then continues using overland journey.
Tips for those who are overstay around Alas river, you can rest and sleep in tents on the riverbank of Alas river while roasting the fish and enjoy the night whit your group.  If you choose to stay while you feel the atmosphere of a beautiful forest, it can also spend the night at the edge of the woods near the river, it exactly 15 kilometers west of Blankenjeren in Gayo Lues district. Here, there are some wooden huts that each can accommodate two people. Each cottage has a spacious room and balcony, with the price per night stay is around Rp. 70.000 per person. For dinner, it cost Rp.30.000 per person, while breakfast takes Rp.15.000 per person.

Latest News
Tsunami Museum Located at Jalan Iskandar Muda, Banda Aceh, the museum is open every day (except Friday) at 10:00 to 12:00 and 15:00 to 17:00. The style of this building is quite unique, it has stage house style or Rumah Panggung, and it resembles a ship with a chimney, when we see from far. Inside the museum, you can find a narrow hallway with rumble noises waterwall on both sides as if to remind the enormity of the tsunami. Aceh Tsunami Museum displays an electronic simulation of the 2004 Indian…
---
---
---
---