Visiting Pasi Penyi Beach in Pulo Breuh, Aceh Province - Indonesia
---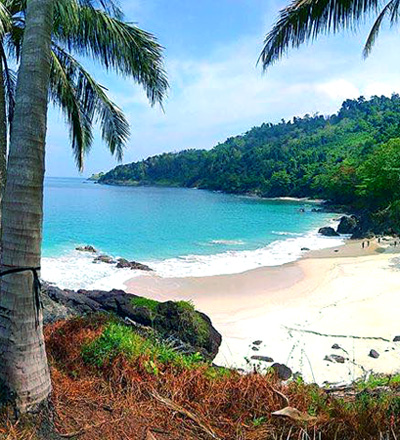 A thousand reasons are available to visit Aceh Province Indonesia. For those looking for stunning nature, they can visit Pasi Penyi which is located in Pulo Breuh or Breuh Island. It belongs to Aceh Besar Regency and has been visited by lots of tourists over time. Why is that? Tourists can enjoy numerous types of attractions including a local lighthouse, white sandy beach, local culture, and many others! All of them become the charm of Breuh Island, which explains why more visitors keep coming to the island regardless of their purpose is.
The Nuance
Pasi Penyi is actually the part of Breuh Island, but it is considered secluded as compared to other attractions. Moreover, it is a new tourist spot in Aceh Province. Despite the fact, it owns natural beauty that people can't deny. Such beautiful beach features white sand and some big rocks that scatter in the shoreline. The beautiful blue sea and breezing wind also become the charms of the site. Not to mention lush green hills are seen in the horizon, creating an amazing ambiance and become a great object for photography.
Exploring Pasi Penyi
It is without a doubt sightseeing becomes the prime activity to do in Pasi Penyi Beach. Thanks to nature, tourists are able to find peace and eradicate stresses right away by simply spending several minutes at the beach. Apart from that, beach walking is also recommended due to the presence of soft-textured white sand. Even going barefoot is safe there. While beach walking, tourists should not forget to capture some pictures of the sea and its surroundings! This explains why carrying a camera is compulsory when visiting Pasi Penyi.
What is next? The next popular activity is to visit a famous lighthouse called William's Torren. It was built during the reign of the Dutch in 1875! Such historical structure remains in a good condition and keeps functioning until now. Not to mention it becomes a reason for tourists to visit Breuh Island. The thing is people need to pass through dense forest in order to reach the lighthouse and it takes some time if they come from Pasi Penyi. Once tourists reach the tip of the structure, they can enjoy the scenery at its best condition!
Another important thing to do in Pasi Penyi is to witness locals' activities, which is fishing. Most of the locals work as a fisherman and they spend much time in the sea to catch numerous sea resources like lobsters, squids, fishes, shrimps, and octopuses. Tourists even have the chance to enjoy grilled sea food later in the afternoon. For lucky ones, those foods are even free to eat. If not, buying some won't cost too much and it is worth the expense as the taste of those sea foods is great.
Nearby Attractions
Sarang Cave
Iboih Beach
Paradiso Beach
How to Get There
From a local port in Banda Aceh, tourists need to spend about 2 hours to reach Breuh Island. Later, they might arrive in Gugop Village and continue the trip by heading to Pasi Penyi Beach. The best time to ride the boat is at 2 pm, actually.
Where to Stay
Hotels and resorts in Weh Island


Latest News
Tsunami Museum Located at Jalan Iskandar Muda, Banda Aceh, the museum is open every day (except Friday) at 10:00 to 12:00 and 15:00 to 17:00. The style of this building is quite unique, it has stage house style or Rumah Panggung, and it resembles a ship with a chimney, when we see from far. Inside the museum, you can find a narrow hallway with rumble noises waterwall on both sides as if to remind the enormity of the tsunami. Aceh Tsunami Museum displays an electronic simulation of the 2004 Indian…
---
---
---
---