Blang Kolam Waterfall
---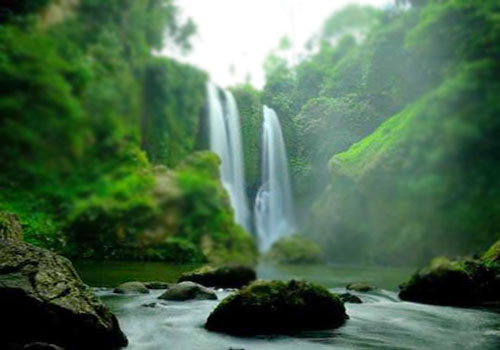 Blang Kolam waterfall is located in a shady forest in North Aceh district with a height of about 75 meters. It situated in cool place with beautiful nature scenery. For those who want to feel the chill nuance of the waterfall, can bathe beneath the waterfall or just relax at the end of the week. This place is very suitable for family recreation.
To reach the location is easy, either through Cunda Lhokseumawe, Kandang North Aceh and Muara Satu area in Lhokseumawe. Better to stay carefull during the journet to the waterfall, for the road is very alarming. Moreover,  the condition of the road is steep and slippery. Anyway, the struggle before reaching up Blang Kolam will be paid when you arrive at the location.
When you enter the gate, you have to pay Rp 2,000. There are some food and beverage vendors at the waterfall site, it good for meals or just resting while enjoying the shady nuance over the forest. To reach the waterfall, we have to down dozens of stairs, because of the location of the waterfall is under the deep slopes down.
The facilities provided are also quite complete. You can already find a prayer room and a toilet in this place. Well, if you need electricity, for example, to charge your camera or mobile phone, there is electricity power that can be used to make your holiday more comfortable and enjoyable.
The security is also maintained well at this place. In addition to parking area that being guarded well, the guards at the waterfall are also be around. So, if in case of the accident happened, they ready for any situation.
For those who love the adrenaline rush, in front of the waterfall there is a large 4 meters rock, and it commonly used to be climed and jumped into the pool. On weekends, there will be many who lined up to jump out of this spot. For those who can not swim and would rather play the water from the top of the rock, try to feel the sensation of fish inside the water.

Latest News
Tsunami Museum Located at Jalan Iskandar Muda, Banda Aceh, the museum is open every day (except Friday) at 10:00 to 12:00 and 15:00 to 17:00. The style of this building is quite unique, it has stage house style or Rumah Panggung, and it resembles a ship with a chimney, when we see from far. Inside the museum, you can find a narrow hallway with rumble noises waterwall on both sides as if to remind the enormity of the tsunami. Aceh Tsunami Museum displays an electronic simulation of the 2004 Indian…
---
---
---
---