Udara Yoga in Jepara Regency, Central Java Province
---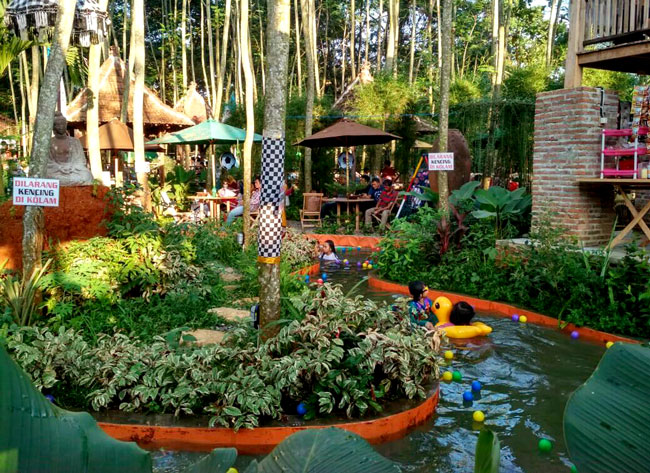 Those who explore Jepara Regency may find several unique places to visit during holidays. For example, there is Udara Yoga in Ngabul Village at Tahunan Sub-District. In terms of popularity, it becomes more famous due to many exposures on the social media sites. Another name is Bali Ngabul Park. As the name suggests, visitors are able to enjoy a similar nuance to that of Bali Island in Indonesia. Aside from that, the locals often swarm the area in both weekends and holidays. They come for the relaxation, photography, and recreation. This explains why most of the visitors are families with kids.
The Nuance
As mentioned before Udara Yoga emits a similar to Nuance to Bali Island. No wonder, visitors may find a "Pura" gate and some Balinese ornaments including statues and carvings. The good thing is the park resides in the midst of a forest, so it offers a comfy and relaxing atmosphere. Many tall trees surround the area and give a shady ambiance to it. Not to mention tourists can find lots of facilities including an outbound arena, culinary, toilets, parking area, and many more! Several photography spots are also available there!
Exploring Udara Yoga
For those visiting Udara Yoga, they can take advantage of the park for relaxation. It looks different than regular parks, though. The first feature is the lush trees that provide a shady nuance to the site. Another important uniqueness is definitely the Balinese ambiance. That means those who live in Jepara don't need to spend a long trip to Bali Island to enjoy its nuance. What they need to do is to visit Bali Ngabul Park in Tahunan Sub-District.
Aside from relaxation, people come to Udara Yoga in order to conduct photography. They may explore the park and find some good spots for it. Taking selfies and group photos give a satisfying result, for sure. The best object to capture, in this case, is the gate of the temple. Do not forget to take photos of statues that scatter in that area. These include Barong, winged-woman, Hindu, and Buddha statues. All of them look majestic, without a doubt.
Udara Yoga is not all about the park. It is because visitors can find other things there, especially the gazebo. This facility accommodates tourists who want to relax and conduct eating together with families. The next best feature is the pool where kids can play water and swim in it. Tourists can even do other things like riding a horse, visiting the mini zoo, and playing on the slides! No wonder, the park is famous among local families and those who want to conduct a recreation with their family members.
Nearby Attractions

Langon Field
Pancasila Monument
How to Get There
From Semarang City, a trip to Jepara Regency takes approximately 2 hours and 2 minutes. It is because the distance is 78.1 km. For a faster trip, it is recommended to take Kudus – Semarang Street, though. Next, after arriving at Jepara, they must take Jepara – Kudus Street and reach Ngabul Village at Tahunan Sub-District right away. This time, the trip takes around 18 minutes as the distance is 10 km.
Where to Stay