Grenjengan Dowo Waterfall in Jepara Regency, Central Java Province
---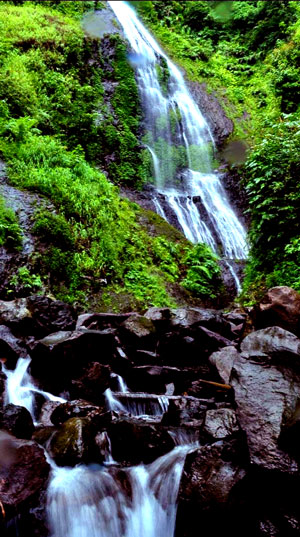 Many waterfalls await tourists in Jepara Regency. For those who look for an adventure, in this case, they should visit Grenjengan Dowo Waterfall. The location is in Krajan Barat Village and it belongs to Kembang Sub-District. Nature lovers and adventurers love to come to the site due to the challenging route and stunning landscapes, actually. That means they can enjoy several fun activities like trekking, photography, and sightseeing. Plus, the waterfall offers a pristine environment and unspoiled beauty. No wonder, some tourists take advantage of the atmosphere for relaxation, too.
The Nuance
In terms of nuance, Grenjengan Dowo Waterfall offers a serene ambiance. Perhaps, it is because of the secluded location. The fact is tourists need to pass through a challenging route including a valley and lush bushes in order to reach the site. Once arriving at the location, they may see a tall waterfall with a moderate water discharge. The area is surrounded by bushes and big stones too. Below, the river flows passing through various sizes of river stones, as well. Even though taking a bath is possible in that spot, tourists should walk carefully before getting in the water due to the slippery landscape.
Exploring Grenjengan Dowo Waterfall
The distance between the downtown and Grenjengan Dowo Waterfall is considered moderate. The prime landmark is Sendang Sinatah Fork where tourists can find a parking area located at the villager's house. From the parking area, they need to conduct a short trekking to the waterfall too. Thanks to the villagers. They have built some direction signs in that area, so visitors are able to reach the site without the help of a local guide. During trekking, tourists may see lots of interesting panoramas like streams, river stones, lush coffee plantations, and much more! Not to mention the air is fresh and cool. It would be a fun trip, therefore.
So, what can tourists do once they arrive at Grenjengan Dowo Waterfall? Well, the most common thing to do is relaxation. It is because the site offers a serene and refreshing nuance to visitors. Not only the environment is clean, but the site also has a rejuvenating air. The location is in a highland, after all. The serenity, somehow, helps tourists to soothe their mind and body.
The next recommended thing to do in Grenjengan Dowo Waterfall is photography. The site is known for its majestic river stones, actually. Their size various and their appearance is unique. No wonder, visitors often take selfies while sitting or standing in front of those stones. Do not forget the fact that the waterfall looks astonishing, too!
Nearby Attractions

Songgo Langit Waterfall
Sendang Sinatah Waterfall
Gong Perdamaian Dunia
Kali Bening
How to Get There
A trip to Grenjengan Dowo Waterfall involves several checkpoints. First, tourists should get to Jepara Regency. If they come from Semarang City, they may spend about 2 hours and 6 minutes to reach the destination. The distance is 78.1 km and the best route is Kudus – Semarang Street. Next, after arriving at Jepara, their destination is Krajan Barat Village at Kembang Sub-District. This trip takes around 41 minutes, as the distance is 21.8 km. They can park the vehicle at the nearby villager's house later. The last thing to do is trekking to the site, which takes both stamina and energy. Thus, everyone should come in good condition.
Where to Stay