Shopping Center Jepara (SCJ) in Jepara Regency, Central Java Province
---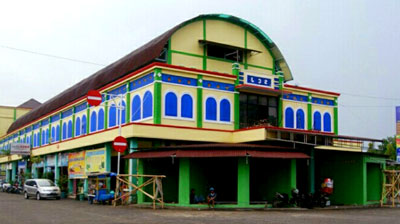 People have a different preference when it comes to spending a holiday. Even though the majority chooses to visit natural attractions, some others like shopping. In this case, they should visit SCJ or Shopping Center Jepara when coming to the region. The location is in Panggang Village and it has become more popular these days among tourists. It is different than regular shopping centers, though. This one only sells items that are related to Jepara, including the culinary. Therefore, it becomes one of the most significant tourist sites in the region these days.
The Nuance
Aside from the uniqueness, SCJ has other benefits to tourists. These include the strategic location. It resides near to the famous place for eating namely Jobokuto Culinary Center (which is actually the part of SCJ). It is also located near famous tourist spots including Pendopo, Ratu Market, Kartini Museum, Jepara Square, and Baitul Agung Makmur Grand Mosque. Thus, tourists can easily explore those places either after or before visiting Shopping Center Jepara. This also explains why the site has lots of visitors regardless of the time, especially at night.
Exploring Shopping Center Jepara (SCJ)
Located beside Kali Wiso, SCJ never runs out visitors. Moreover, it is also located near to Jepara Square, where many people come for hanging out. So, what can tourists do in Shopping Center Jepara? As the name suggests, visitors are likely to shop for some items and foods once they arrive at the site. Therefore, everyone should carry some money when visiting the site. Even though the shopping center looks modest, it features good facilities like air-conditioned rooms, parking area, wireless-fidelity connection, and toilets. The management doesn't want to disappoint visitors, after all.
There are many reasons why SCJ becomes more famous over time, especially among tourists. One of them is the fact that tourists always look for souvenirs and traditional foods when visiting Jepara Regency. SCJ becomes the most recommended destination to satisfy those needs, for sure. The next reason is related to the location, which is quite strategic and near to many famous places especially Jepara Grand Mosque and town square. That means both locals and tourists can easily reach the location without hassles. Even first-timers don't need the help of a local guide to get to the site.
According to the locals, SCJ becomes more crowded when the night comes. It is because many food vendors come and sell their products on the site. Numerous traditional foods of Jepara are available, so tourists can try them all comfortably. They can even enjoy the evening nuance while eating those delicious foods!
Nearby Attractions

RA Kartini Museum
VOC Fort
Asia Hotel
The Gecho Inn
How to Get There
Before heading to Shopping Center Jepara, tourists must reach Jepara Regency first regardless of where they come from. If they come from Semarang City, the trip may take around 2 hours and 6 minutes as the distance is 78.1 km. It can be faster if tourists take Kudus – Semarang Street. Once they arrive at Jepara, their next destination is Panggang Village where SCJ resides. This time, their trip takes around 1 hour and 46 minutes. The distance is 76.9 km, after all.
Where to Stay

Nusantara Hotel
Puri Saripan