Cemara Kecil Island in Jepara Regency, Central Java Province
---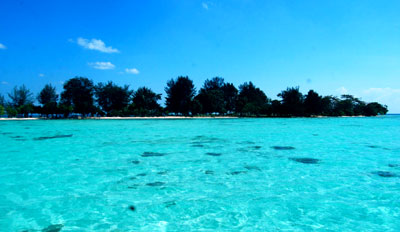 Jepara Regency has more interesting vacation spots aside from Karimunjawa National Park. For example, tourists can visit Cemara Kecil Island (which is the neighboring island of Cemara Besar Island). Despite the absence of sophisticated accommodations, the island remains popular among those who look for both serenity and beauty. Moreover, the island is known for its mesmerizing sea scenery and soothing nuance for gathering. Visitors can also rent a boat and watch the corals from it. Tourists can also enjoy island hopping by visiting Cemara Besar Island, after exploring Cemara Kecil.
The Nuance
The most attractive feature in Cemara Kecil Island is definitely the marine beauty. Not only the island has amazing beaches, but it also comes with calm waves. The sea looks serene with its milky blue seawater! Not to mention the contour is shallow, so tourists can enjoy snorkeling safely. The various sizes and color of corals satisfy everyone who gets underwater, for sure. In terms of nuance, it offers a peaceful atmosphere due to the absence of facilities and villagers. Plus, visitors can see a mountainous view on the horizon and feel a shady ambiance in the midst of the island. Thanks to the tall and lush trees of Indonesia.
Exploring Cemara Kecil Island
The prime tourist activity to do in Cemara Kecil Island is none other than snorkeling. It is because the sea looks calm and the underwater beauty is quite alluring. Not to mention the clarity is excellent, so tourists are able to watch numerous types of fishes and corals clearly down there. If they want a more challenging experience, they can go diving instead. In this case, they must prepare the equipment beforehand. Here is an idea. They can rent it at Karimunjawa Besar Island before heading to Cemara Kecil.
For a casual tourist activity, visitors can go fishing instead of snorkeling and diving. Many good spots are available to catch many fishes. Plus, the sea offers various types of fishes to them. As an alternative, there is a lunch gathering on the shoreline. That means tourists may join other visitors and eat together at noon while watching sea scenery. The best menu is definitely the local grilled fish.
Here is an extra tip. The best time to visit Cemara Kecil Island is during the east wind season in Indonesia. Why is that? It is because the waves are calmer at the time. On the other hand, Cemara Kecil Island is not suitable for water sports during the west wind season due to big and fierce waves. For those who don't like getting in the water, they can spend a relaxing time at the nearby coral reefs at the shore. The nuance is quite soothing for relaxation, without a doubt.
Nearby Attractions

How to Get There
A trip to Cemara Kecil Island starts from Semarang City. Tourists' first destination is Jepara Regency and the trip may take about 2 hours and 8 minutes. It is because the distance is 78.1 km. Have no worries. It becomes faster if tourists take Kudus – Semarang Street. Once arriving at Jepara, the next destination is Jepara Port where they can get a boat service. Their destination is Karimunjawa Besar Island. From there, it takes about 1 hour to reach Cemara Kecil Island by Sopek Boat.