Gajah Mungkur Mountain in Jepara Regency, Central Java Province
---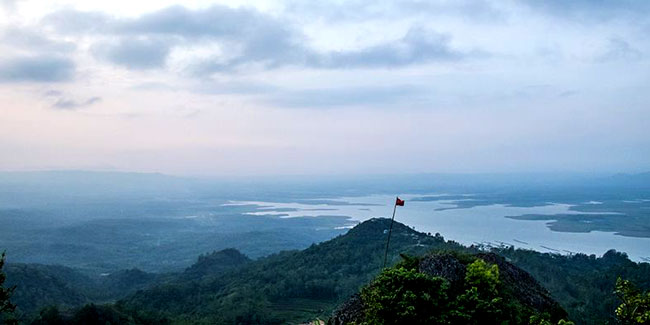 The fact is some parts of Muria Mountain belong to Jepara Regency. This explains why tourists may find several spots for trekking and sightseeing including Gajahmungkur Mountain. The locals also call it Punuk Sapi or Argojembangan Mountain, actually. It resides in the north part of Jepara Regency and has become one of the best places to conduct trekking. Moreover, it offers tourists with breathtaking panoramas and refreshing highland's air. In terms of name, "Punuk" means hump while "Sapi" means cow. As the name suggests, the locals gave the name due to the similar appearance to the hump of a cow.
The Nuance
The nuance is considered both refreshing and hot. It is because the mountain doesn't feature many tall trees. What tourists find only grasses and lush bushes, so it feels like exploring a wild savanna when trekking. One thing that makes it different is the humped-shape of the peak. It is both steep and challenging! Despite the fact, all people are able to get to the top of it if they climb the peak carefully. In terms of size, Gajah Mungkur Mountain is located on about 1400 meters above the sea level! It is smaller than the neighboring Argo Piloso Mountain (which is located on 1520 meters above the sea level).
Exploring Gajah Mungkur Mountain
Trekking becomes the best thing to do in Gajah Mungkur Mountain. Not all people know the route, though, so they must consider hiring a local guide or porter when exploring the mountain. The starting point is at Colo Village. Next, they must reach Japan Village and get to Perhutani Area. That means they have reached the spot between Muria Mountain and Argojembangan Peak. They only need to go east to reach the top of Gajah Mungkur Mount.
The landscape is challenging and the route is bushy. Not to mention it is quite steep, so trekkers should be careful when going up. Though, those who carry a compass should be ready to get disappointed. The compass would malfunction, as it is obstructed by the tall size of the mountain. Once again, therefore, they should take advantage of a porter or guide's service who can tell directions professionally. Thus, getting lost is not an issue.
After reaching the top of Gajah Mungkur Mountain, all the tiredness and difficulties vanish right away. The breezy wind and perfect panoramas replenish everyone's stamina, too. It becomes a rare experience for most of the tourists, no? The efforts are worth it, the expense is well-spent, and the tiredness is paid off. Nothing can compare to the views up there!
Nearby Attractions

Mount Muria
Pertapaan Eyang Pawayangan
Banyu Anjlok Waterfall
Angin Temple
How to Get There
From Semarang City, tourists' first destination should be Jepara Regency. The trip may take around 1 hour and 58 minutes, as the distance is 78.1 km, actually. It can be done faster if tourists take Kudus – Semarang Street. Once arriving at Jepara, their next destination is Colo Village at the east part of Muria Mountain. From the village, they need to conduct trekking to reach the top of the hill
Where to Stay