Gong Perdamaian Dunia in Jepara Regency, Central Java Province
---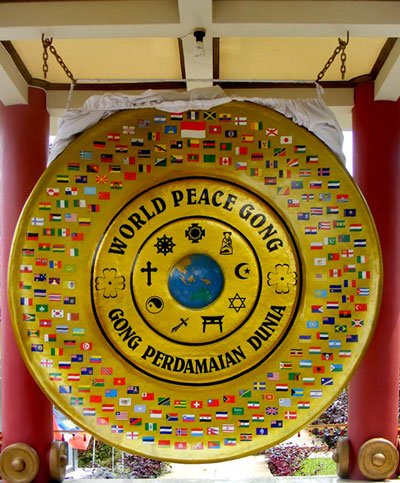 In Jepara Regency, tourists have many vacation spots to explore including natural attractions, historical sites, monuments, exactly in Indonesia. There is even a unique place where Gong Perdamaian Dunia or the gong of world peace. The location is in Plajan Village and it belongs to Pakis Aji Sub-District. The fact is the village has been chosen as the world peace site by the government. After all, Plajan Village is the homeland of Lemuria Tribe who once lived in Muria Mountain! As for the gong, it becomes the symbol of world peace. That means people are able to live in harmony regardless of the differences.
The Nuance
Actually, the gong is the part of the Gong Perdamaian Dunia Museum. That means tourists can find other interesting things there, including Air 99 Negara, Tanah 202 Negara, Sumur Perdamaian, and many others. Tourists can even find a worshipping place in that area. In terms of nuance, the site is considered comfy due to the presence of lots of banana trees and various types of plants. Many flags of different countries also reside there. The best feature is, definitely, the gong itself. The size is big and it is hung under a luxurious "pendopo". The color is golden and it features all nations' flag as well as religion symbols! No wonder, the gong becomes the best object for photography. Tourists are likely to take selfies in front of it, too.
Exploring Gong Perdamaian Dunia
Usually, tourists visit Gong Perdamaian Dunia after exploring the famous nearby cave called Sakti. However, it takes a short trekking to get to the site. Tourists may even find a steep rise later, located in Plajan Village. As an alternative, they can rent a bicycle and head to the site in a more comfortable manner. Though, they are not able to witness all the panoramas due to the limited access. On the other hand, if they go by trekking, they can enjoy sightseeing thoroughly.
That means both trekking and bicycling are recommended for those who head to Gong Perdamaian Dunia. Once tourists arrive at the guard post, they would meet some men working on the site. Have no worries. They don't charge any fee to visitors. Their job is only to give direction and help tourists with their needs.
When reaching the place where Gong Perdamaian Dunia resides, tourists may find a jug replica and well. Even a small mushola is located in that area. Still, the most noticeable one is the big and fabulous Gong! Due to the uniqueness, the gong often becomes a background for photography in fact. This explains why all tourists carry a camera when visiting site. Later, they even post it on their social media site.
Nearby Attractions

Muria Mountain
Sakti Cave
Partini Monument
Dharma Loka Temple
Akar Sribu Plajan
How to Get There
From Semarang, a trip to Jepara Regency takes around 2 hours and 12 minutes. It is because the distance is 78.1 km. Tourists can get faster if they take Kudus – Semarang Street, actually. Once they get to Jepara, their next destination is Plajan Village at Pakis Aji Sub-District. This trip takes only about 28 minutes, as the distance is 16.4 km. As for the best route, it is recommended to take Raya Batealit – Bangsri Street.
Where to Stay

The Gecho Inn
Kelet Hotel