Cemara Besar Island in Jepara Regency, Central Java Province
---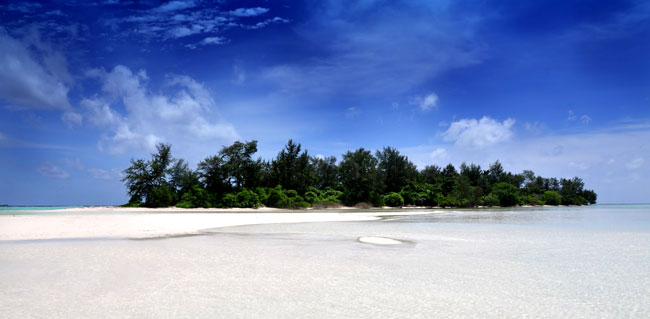 Located near to its sibling (Cemara Kecil Island), Cemara Besar Island should be everyone's next destination when visiting Jepara Regency. The location is in the west of famous Karimunjawa Island and it takes only 30 minutes to get to the island from that area. So, what makes it a good place for a vacation? The first reason is the island has a stunning panorama. Next, it features an amazing underwater beauty where tourists can enjoy snorkeling and diving. Visitors also come to the island to enjoy fun activities like sunbathing and beach walking, actually.
The Nuance
For the information, Cemara Besar Island is uninhabited. That means it emits a serene and secluded nuance. The environment is both pristine and unspoiled! This explains why the island is suitable for exploration and adventure. Still, the best feature is the shore where blue crystal seawater and white sandy shoreline may welcome everyone. The sea scenery looks breathtaking, too! On top of that, it becomes a recommended destination for those who want to enjoy water sports like diving and snorkeling. An underwater tour sounds alluring, no?
Exploring Cemara Besar Island
Once arriving at Cemara Besar Island, the boat isn't able to get near to the shoreline. It is because the sea landscape is shallow, so tourists need to get off the boat and walk on the sea in order to reach the land. Have no worries. The waves are calm and the water is warm. So, what makes the island is worth to visit? The most common reason to come to the island is snorkeling. It is because tourists are interested to witness various species of fishes and corals underwater. The clarity of the sea is quite excellent, after all.
Here is the good news. Cemara Besar Island has tons of recommended spots for snorkeling. That means tourists can explore the island and find the most suitable spots for them to explore. Well, it seems first-timers have no idea regarding the best locations for snorkeling and diving, though. In this case, they should take advantage of a guide or local people in order to find the thorough information about it.
What is more? Cemara Besar Island is also known for its formation of big pine trees that grow near to the shoreline. Their presence makes the beach feels shady and comfortable. Thus, the beach offers a relaxing atmosphere to tourists. Visitors can enjoy relaxation and soothe their mind while spending some time at the beach, therefore.
Nearby Attractions

How to Get There
So, how can tourists get to Cemara Besar Island? Well, their first destination is Jepara Regency for sure. If they come from Semarang City, they may spend about 2 hours and 8 minutes as the distance is 78.1 km. The best route to take is Kudus – Semarang Street. From Jepara, their next destination is Jepara Port where they can get a motorboat service. This voyage takes only about 30 minutes, so don't worry.