Batu Topeng Beach in Jepara Regency, Central Java Province
---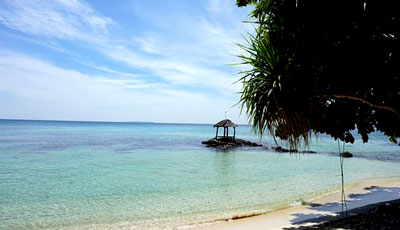 A trip to Jepara Regency gives a new experience to everyone, especially those who love nature. The region has numerous natural attractions including the famous Karimunjawa Archipelago and tons of beaches, in fact. One of them is located in Karimunjawa Besar Island, which is called Batu Topeng Beach. The location is quite strategic, as it resides near to Karimun Square. As for the popularity, the beach is known for its soothing sunset and an amazing shoreline. No wonder, people come to the site for beach walking and sightseeing. They take advantage of the nuance for relaxation, too.
The Nuance
Once arriving at the site, tourists may see a soft-textured white sandy shoreline right away. The size of the shoreline is vast enough for beach walking! Plus, it is located near Tanjung Gelam Beach so tourists can reach that area easily. When it comes to the sea, it indeed looks calm and alluring. No wonder, tourists are likely to get in the water and conduct swimming. The next best feature in Batu Topeng Beach is definitely the sunset. What is more? Some coral reefs reside by the shore and a small hut resides on it! The locals usually look for fishes and clams in that spot.
Exploring Batu Topeng Beach
Batu Topeng Beach becomes one of the most beautiful white sandy beaches in Jepara Regency. Not to mention it offers both land and sea beauty. For the information, people are able to access the location either by land or water transportation! Isn't that great? After all, it only takes several minutes to reach the beach from Karimunjawa Square. These are only some allures that make the beach famous. So, what are others?
When it comes to tourist activities, people come to Batu Topeng Beach in order to enjoy sightseeing. They simply explore the site and witness the beautiful scenery. The best time to visit the beach is in the afternoon, though, during the sunset. Still, it is also recommended to visit it at noon. Why is that? There is a special sea tour after lunch, so everyone should not miss it. Moreover, during lunch, they can enjoy numerous delicious seafood BBQ especially the spicy squid!
The next reason to visit Batu Topeng Beach is exploration. That means tourists may get around the site thoroughly and visit several interesting spots like the rocky coral reef where a modest traditional hut resides. In that area, they can enjoy fishing, sightseeing, and photography to their heart's content. One thing, the surface of those rocks is slippery so everyone should walk carefully.
Nearby Attractions

How to Get There
In order to get to Batu Topeng Beach, tourists need to reach Jepara Regency first. They may spend around 2 hours and 12 minutes to get to Jepara, though. The distance is 78.1 km, but it becomes faster if tourists take Kudus – Semarang Street. Next, they only need to reach Jepara Port to get a boat service. Their destination is Karimunjawa Besar Island. Lastly, they can take any local transportation service and head to Batu Topeng Beach. Have no worries. It is located near to Tanjung Gelam Beach, so everyone can get to the location easily.
Where to Stay

BVB Beach
Pantura Homestay
Latansa Homestay
Shambala Aurora