Krakal Kecil Island in Jepara Regency, Central Java Province
---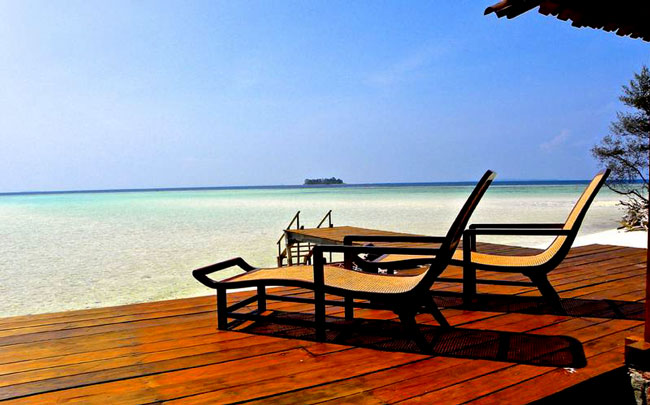 Jepara Regency has tens of beautiful islands for tourists to visit during holidays. One of them is called Krakal Kecil Island. It is located in the neighboring Krakal Besar Island, Indonesia. Both of them are worth to visit, though. One thing that makes Krakal Kecil special is the presence of exotic birds that live on the island freely. Also, it has an amazing nuance to enjoy beach walking, photography, sightseeing, and relaxation. In fact, the popularity is quite nice. This explains why both local tourists and foreigners keep coming regardless of the purpose.
The Nuance
Once arriving at Krakal Kecil Island, tourists may see the white sandy shoreline right away. The seawater is quite clear, so visitors can see numerous fishes easily from the land. Once again, the island has become the home of many seagulls and eagles! They fly freely and perch on the trees calmly! It indeed becomes great scenery to take some photos, no? The thing is the sea comes in strong waves, so tourists should be careful when swimming or snorkeling. Aside from this issue, the nuance is soothing enough for relaxation. Moreover, it has an amazing resort for tourists to rent during the visit.
Exploring Krakal Kecil Island
When it comes to tourist activities, most people come to Krakal Kecil for a social gathering and eating together. They conduct a small BBQ party and grill many types of seafood including giant clams (Kimo), and much more. Not only the activity is popular among the locals, but it also has attracted foreigners. Unlike local people, though, these villagers involve wines and soda drinks at their party. Eating seafood while watching the stunning sea scenery indeed sounds satisfying, no? The sound of the waves, breezy wind, and merry nuance would be their companions.
The next popular thing to do in Krakal Kecil Island is to conduct photography. That means tourists may get around the island and collect some photos of the nature including the waves, sea, shoreline, trees, and other visitors. Even they have the chance to capture either sunrise or sunset! They should not miss those potentials, therefore. The island also has many good spots to take selfies!
What is more? Those who come to Krakal Kecil Island are likely to get in the water and conduct snorkeling. Have no worries. Even beginners can enjoy the activity, as they only need to hire an instructor before getting into the sea. Moreover, it is easy to rent the equipment so tourists don't have to carry it from home. One thing, snorkeling would be more fun if it is done in a group. Thus, tourists must come either with their friends or families.
Nearby Attractions

How to Get There
Before crossing to Krakal Kecil Island, tourists must head to Jepara Regency first. If they come from Semarang City, the trip takes approximately 2 hours and 8 minutes. The distance is 78.1 km, actually. Next, they need to get a boat service and head to Karimunjawa Besar Island. The last destination is definitely Krakal Kecil Island, which takes around 1 hour and 30 minutes from Karimunjawa.