Sreni Forest in Jepara Regency, Central Java Province
---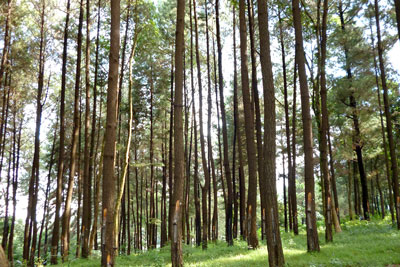 Jepara Regency has lots of recommended places to relieve stresses and find a peaceful nuance in holidays. Well, tourists can start from Sreni Forest which is located in Nalumsari Sub-District. The exact location is at Bategede Village, actually. Even though it hasn't obtained a satisfying popularity yet, the local government has given a title "Hutan Wisata" or forest tourism. Thanks to the exotic beauty and pristine environment. For the information, the locals often call it Wono Sreni Indah and it resides on the foot of the famous Mount Muria. As for tourist activities, visitors usually enjoy sightseeing, relaxation, photography, and exploration.
The Nuance
The main feature in Sreni Forest is none other than the formation of tall majestic pine trees. In terms of status, it has become a protected forest area! The panorama is amazing and the nuance is rejuvenating. It is because the pine trees give a shady and cool ambiance to the site. The lush atmosphere also occurs due to the abundant bushes and other plants that grow on the site. Another satisfying feature is definitely the camping facility which is managed by Perhutani of Jepara Regency. What about the size? The total area is around 110 hectares!
Exploring Sreni Forest
Perhaps people have the same motive to come to Sreni Forest. It is to enjoy trekking in that area, or even on the slope of Mount Muria! The vast total area of the forest accommodates both beginners and professional trekkers, after all. Plus, the environment is pristine, so tourists won't feel tired at all when trekking. The panorama in Sreni Forest also looks beautiful due to the presence of pine trees and hills. In fact, visitors may see numerous natural landscapes including rivers and local farms.
According to villagers, Sreni Forest often becomes a camping area sometimes. The only issue is only the limited number of good camping sites that tourists can use in that area. That means people need to find information regarding the availability of those spots before heading to the site. Also, everyone should prepare all the equipment themselves. No facilities or services provide the rental camping equipment in that location, after all.
On regular days, Sreni Forest looks peaceful and secluded. However, it turns into a merry site where many people gather for various fun activities like sightseeing, photography, and many more! Due to the fact, tourists can choose to visit the forest at a specific time depending on their preference. For those who want to spend a memorable night and different nuance, camping becomes a recommended thing to do in Sreni Forest.
Nearby Attractions

Mount Muria
Songgo Langit Waterfall
Nganjok Bungu
How to Get There
A trip to Jepara Regency takes approximately 2 hours and 6 minutes from Semarang City. It is because the distance is 78.1 km, but the trip becomes faster if tourists choose Tuban – Semarang Street. Once they arrive at Jepara, the next destination is Bategede Village at Nalumsari Sub-District. This trip takes about 47 minutes, as the distance is 29.5 km. As for the best route, tourists should take Raya Jepara – Kudus Street. Somehow, hiring a local guide becomes a good idea to get a more efficient trip.
Where to Stay