Kura-Kura Ocean Park in Jepara Regency, Central Java Province
---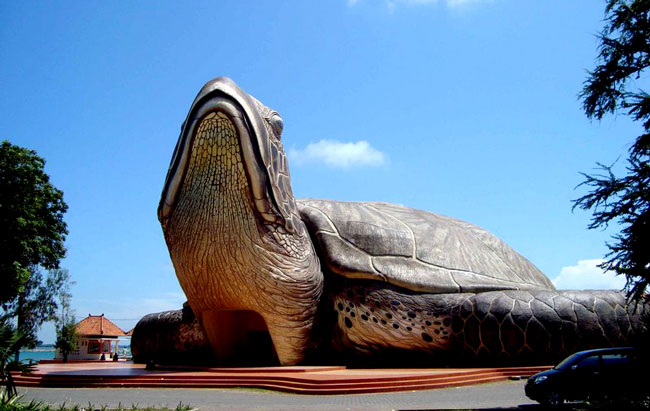 Jepara Regency is known for its beautiful wooden carvings indeed. However, the region also lures tourists with its variety of vacation spots. One of the most famous sites is called Kura-Kura Ocean Park. The location is in Bulu Village and it is located near to Kartini Beach. In a nutshell, this recommended educative tourist site is suitable for families with kids. Visitors can learn the nautical life there. That means they can see various types of marine creatures comfortably while exploring that unique site with their families. It becomes a simple way to enjoy the sea beauty without conducting snorkeling or diving.
The Nuance
"Kura-Kura" means turtles, actually. As the name suggests, Kura-Kura Ocean Park features a unique construction which applies a giant turtle shape. It consists of two floors, but tourists need to pay the entrance ticket first before exploring the site. As for the facilities, visitors can find the ticket booth, souvenir stands, and toilets. It indeed features a giant aquarium where tons of sea creatures are kept safely. Moreover, the ocean park comes with "Misteri Bawah Laut" Hallway. What about the nuance? It feels comfy due to the clean environment and excellent facilities.
Exploring Kura-Kura Ocean Park
Kura-Kura Ocean Park's main feature is none other than the giant aquarium that stores various types of fishes especially sharks, puffer fish, giant trafelly, angelfish, dotty back, and much more! Other sea creatures also live there including hawksbill sea turtles! In fact, tourists can see many species of corals! For the information, aside from the giant aquarium, the ocean park also features several portable aquariums where either freshwater or seawater fishes live. The size of these fishes is moderate, though, unlike the ones that live in the giant aquarium which have a big size.
Inside Kura-Kura Ocean Park, tourists may also find 2 touchscreen monitors that contain information related to Jepara Regency. Even there is a touch pool where tourists can interact with tame turtles directly. What is more? There is a fish spa pool where tons of Garra Rufa fishes live. These fishes give a healthy therapy to tourists' feet skin, in fact. For the information, these fishes came from Turkey!
In the second floor, there is the Jepara Science Park. Visitors can take advantage of the facility either to get fun or train their brain. This area is suitable for families with kids, for sure. Later, before going home, they must take photos of the exterior of Kura-Kura Ocean Park. It looks unique and majestic, after all. The shape of a sea turtle makes it more interesting, as an object for photography. A better camera gives better results, though.
Nearby Attractions

Kalinyamat Park
RA Kartini Museum
Alamoya Water Boom
VOC Fort
How to Get There
From Semarang City, a trip to Jepara Regency may take around 2 hours and 8 minutes. It is because the distance is 78.1 km, but the trip becomes faster if tourists choose Kudus – Semarang Street. Once arriving at Jepara, their next destination is Bulu Village where the ocean park resides. The distance is 5.1 km, so the trip takes only about 12 minutes. It can be faster, in fact, if tourists take Cik Lanang Street.
Where to Stay

Segoro Hotel
Asia Hotel
Kencana Hotel