Menjangan Island in Jepara Regency, Central Java Province
---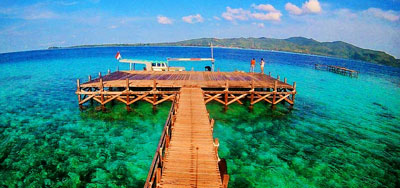 Visiting Karimunjawa National Park is quite common among passionate tourists. However, they should not overlook the presence of other islands in Jepara Regency. For example, there is Menjangan Island! In terms of name, "Menjangan" means deer. It is a little bit disappointing that tourists won't find any deer there. Instead, they can enjoy the sea scenery and conduct several fun tourist activities like snorkeling and diving. For the information, there are Menjangan Kecil and Menjangan Besar Island. Both of them are worth to visit, without a doubt. Though, those who look for the best snorkeling experience, their destination should be Menjangan Kecil Island.
The Nuance
Menjangan Kecil and Besar Island are located close to each other, so tourists can go back and forth without hassles later. Each of the islands also has a distinct attraction for everyone. For example, Menjangan Besar Island is known for its famous shark conservation! What about Menjangan Kecil? As mentioned earlier, it becomes the best destination for water sports especially snorkeling. In terms of size, Menjangan Kecil has the total area of about 46 hectares while its sibling is definitely bigger. The good thing is tourists can find good accommodations there including bungalows, port, and neat environment.
Exploring Menjangan Island
The clarity of the seawater satisfies all people who visit Menjangan Island. Not to mention beautiful fishes can be seen clearly from the land! Tourists are even able to interact with those fishes directly. That means snorkeling and diving would be prime tourist activities there. Here is the consideration. Menjangan is an uninhabited island. That means no facilities and services are available, so tourists must prepare everything beforehand including the snorkeling gear and foods.
For the information, the island is managed by Awani Dream Limited. This explains why visitors may see a vast coconut plantation in that area. The good thing is the management has provided a resort, so tourists can spend the night comfortably with their families. Therefore, everyone should carry extra cash when visiting the island. They may use the money to pay for the entrance fee, too, after all. Also, it is recommended to rent a tour guide who knows the site well.
Actually, what we have been discussing here is the Menjangan Kecil Island. This is why tourists must not miss the chance to visit the neighboring island before going home, which is Menjangan Besar Island. At the location, visitors are able to interact with tame sharks! It is because the island is known for its shark conservation. Have no worries. Tourists don't need to spend much money to get in the conservation!
Nearby Attractions

Menjangan Besar Island
Shark Conservation
How to Get There
From Semarang City, tourists may spend around 2 hours and 8 minutes to reach Jepara Regency (the first checkpoint). The distance is 78.1 km, but the trip becomes faster if they take Kudus – Semarang Street. From Jepara, they can directly head to Jepara Port and get the boat service before heading to either Menjangan Besar or Kecil Island. They can either directly head to the destination or drop by at Karimunjawa Besar Island first, too.
Where to Stay