Dong Paso Waterfall in Jepara Regency, Central Java Province
---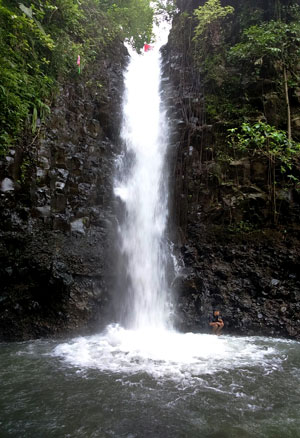 It seems Jepara Regency never runs out of waterfalls for tourists. Here is another reference. The name is Dong Paso Waterfall, which is located in Somosari Village at Batealit Sub-District. The location is near to the famous Banyu Anjlok Waterfall, indeed. Thus, tourists can explore both sites easily during the visit. Also, the waterfall resides within Muria Mountain area so it offers a soothing atmosphere and wonderful panorama. Visitors can also enjoy trekking and exploration when visiting the waterfall later. The only problem is the route is considered far. That means everyone should come in good stamina and carry some supplies especially bottled water.
The Nuance
Before getting to Dong Paso Waterfall, tourists need to conduct trekking first. They can park their vehicle at Somosari Village and walk to the site afterward. Have no worries. Many local houses provide a parking area in their yard. The fee is also affordable. For the information, the distance from the village to the waterfall is 2 km. For some people, it would be tiring. Have no worries. The beautiful panorama and comfy nuance may get rid of the tiredness during trekking. Mountain views and small rivers may accompany them, as well.
Exploring Dong Paso Waterfall
Villagers recognize the tourism potential of Dong Paso Waterfall. This explains many of them provide a parking area for tourists and visitors. They use their yard as a parking spot, actually. It is true all visitors should park their vehicle first before heading to the site. It is because the route requires a trekking for about 2 km. Have no worries. Many people come to the site. That means trekking would be merry and fun due to the presence of other tourists.
Along the way to Dong Paso Waterfall, tourists may see various types of beautiful landscapes including mountains and rivers. They can even hear the songs of birds and insects, especially during summer. Another view that they can enjoy is the formation of local farms. It is because most villagers work as a farmer. Most of the time, those farmers are seen on the site carrying farming equipment and seeds. During the harvest season, in fact, tourists may meet local farmers carrying crops!
The real fun appears once tourists arrive at the site, though. The waterfall is surrounded by green hills and the sound of gurgling water soothes everyone. Aside from photography and relaxation, visitors can enjoy other fun things especially bathing! It is because the waterfall features a rejuvenating natural pond with refreshing water! It is safe for children, too, in fact! As for the waterfall, it looks majestic due to tall size which is about 15 meters!
Nearby Attractions

Muria Mountain
Banyu Anjlok Waterfall
Suroloyo Waterfall
How to Get There
The distance between Semarang City and Jepara Regency is 76.6 km. That means the trip may take around 1 hour and 50 minutes to reach the destination. Have no worries. It becomes faster if tourists take Kudus – Semarang Street. Later, once arriving at Jepara, they can simply head to Somosari Village at Batealit Sub-District. The distance is only 25.8 km, so the trip takes approximately 44 minutes. The best route to take is Raya Jepara – Kudus Street.
Where to Stay

The Gecho Inn
Kelet Hotel