Tiga Putri Monument in Jepara Regency, Central Java Province
---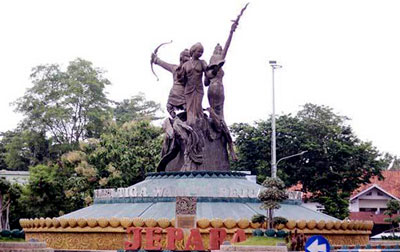 Spending a vacation in Jepara Regency would be a new experience for some people. It is because the region offers more than tourists may expect. Even it has some interesting monuments to visit, including the one called Tugu Tiga Putri. The location is in Penggung Village and it belongs to Tahunan Sub-District. In terms of Indonesia name, "Tugu" means monument, "Tiga" means three, and "Putri" means queens. As the name suggests, the monument symbolizes three legendary female figures in Jepara Regency. They are RA Kartini, Queen Kalinyamat, and Queen Shima. The location is right at Ngabul Roundabout, so it is quite noticeable.
The Nuance
Located in a strategic area and at a crowded street, Tiga Putri Monument indeed attracts those who pass by including tourists. The height is about 15 meters and it has three female statues on it. One is reading a book; one is aiming an archer to the enemy; while another is holding "Keris". They look both as astonishing and inspiring, in fact. Not to mention they face a different direction, which is related to the region where they have the biggest impact on. As for the nuance, it is considered crowded due to the location. Have no worries. The presence of some plants soothes everyone.
Exploring Tiga Putri Monument
Tourists indeed have a different reason for visiting Tiga Putri Monument. Well, the most common motive is to watch the monument directly. These people are impressed by the uniqueness and meaning of the statues that reside on it, too. As mentioned before, the height is about 15 meters. That means it is good enough to be an object for photography. Tourists can simply stand in front of the statue and take selfies using either a smartphone or a digital camera.
The next common reason for visiting Tiga Putri Monument is to learn the history behind those female heroes. Perhaps almost all people have already heard about RA Kartini, who was the first woman who fought for women's emancipation back then. What about Queen Kalinyamat and Shima? Only those who live in Jepara Regency are familiar with those names. For tourists, therefore, it is important to hire a guide or villager in order to get thorough information regarding those queens.
The unique thing is that each statue faces a different direction, which is the place where they had given the merit. For instance, Queen Shima faces Keling Sub-District (which is the former Kalingga Kingdom). Queen Kalinyamat faces Mantingan Village while RA Kartini faces Mayong Sub-District. Once again, tourists must find a reliable information to learn more about these famous women.
Nearby Attractions

Bali Ngabul Park
Bugel Valley
Pancasila Monument
How to Get There
The distance between Semarang City and Jepara Regency is 78.1 km. That means tourists need to take around 1 hour and 58 minutes to get there. If they take Kudus – Semarang Street, the trip becomes faster in fact. From Jepara, their next destination is HOS Cokroaminoto Street at Penggung Village. This trip only takes 20 minutes, as the distance is 10.5 km. As for the best route, it is Raya Tahunan – Batealit Street.
Where to Stay

The Gecho Inn
Harum Manis Cottages